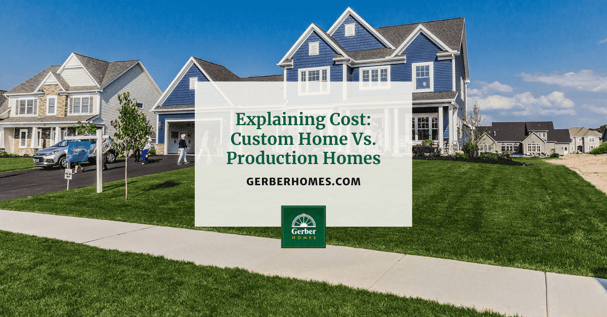 Are you thinking about building a new home in the Rochester/Finger Lakes area but aren't sure if a custom or production home is the better option? Both types of homes offer modern floor plans and up-to-date amenities, although they do vary in price. Learning about the building and design processes for these two styles of homes can help you understand the factors that influence the cost.
All About Production Homes
If you've ever lived in or driven by a new home community, you're probably familiar with production homes. They're the most common type of new homes built in the U.S. and offer the simplest way to build a new home. Production home communities can be huge or include just a few homes.
Long before construction begins on production homes, the home builder buys the land and prepares it for sale. As part of this process, the builder:
Clears the land of debris, rocks, and trees, and shrubs

Installs and pays for water, sewer, and utility lines

Obtains and pays for the necessary permits from the local town or township

Subdivides the land into individual lots

Hires an architect to draw up plans for the new homes
Once the pre-building phase is complete, the builder offers production homes for sale. A new homeowner picks one of several floor plans offered by the builder, then selects a lot. The total cost of the new home depends on the price of the lot and the home model chosen.
Buyers choose from a menu that offers several standard selections for flooring, paint colors, counters, cabinets, light fixtures, and other features. Upgrades are often available for an additional cost.
What You Need to Know About Custom Homes
Before you can build a custom home, you must search for and buy a plot of land. Fortunately, it's not hard to find prime building lots in our area. Whether you want a view of Lake Ontario or one of the Finger Lakes or a home that's within an easy commute of Rochester, you'll have plenty of lots to choose from.
When you pick your lot, you'll need to consider more than just the view. Site preparation costs, which include clearing the land and extending utilities to your property, can add thousands to the cost of your home depending on where the lot is located.
Luckily, you don't have to tackle this job alone. John can help you evaluate local lots and even give you an idea of what you can expect to pay for land preparation costs. Once you've bought a lot, the design team at Gerber will draw up the plans for your home and coordinate the building schedule.
Unlike production homes, there are no limitations with custom homes. Your home can be as large or small as you like and include as many high-end features as you want. You could add a temperature-controlled wine cellar in the basement, install a massive double-sided fireplace between the living and family rooms, put in a five-car garage, or include a dedicated art studio or workshop.
If you prefer, you can build one of Gerber's standard floor plans on your property. Choosing an already-designed plan will save you a little money, and of course, you can always customize the home with upgrades.
How Gerber Homes Combines the Two
Gerber Homes offers the best of both worlds with pre-developed lots and tons of available floor plans that can be fully customized to suit the buyer. According to John Graziose, almost all of the homes built in Gerber communities employ customized floor plans and optional features.
While it may be slightly cheaper to go with a full production home, we feel no two families live exactly the same. To us, this means each family should have a customized home. We also work with architects and home designers when clients come to us for a fully custom home on their own lot. This multi-faceted approach to home building gives or clients a custom home that has been built using production home efficiencies.
The Bottom Line
You'll pay less for a production home than a custom home. According to Home Advisor, the average new home costs $100 to $200 per square foot, while luxury or custom homes can cost as much as $500 per square foot.
Production homes prices are lower in part due to the bulk purchase of building materials that will be used for all of the homes in the community. Site preparation costs are usually included in the cost of production homes and aren't a separate fee. You also won't pay separate fees for architectural plans and construction when you choose a production home.
Bundled costs aren't an option for custom homes. You'll pay for:
Land purchase

Site preparation (clearing the land, running utilities, adding a driveway, etc.)

Permits

Architectural design

Construction costs for the home
Custom homes do cost more but offer the opportunity to create the home of your dreams in the ideal location. If you have very specific ideas for your new home, it makes sense to choose a custom home.
Are you ready to build a custom or production home in the Rochester/Finger Lakes area? We're here to help no matter what option you choose. Contact us to get the process started.