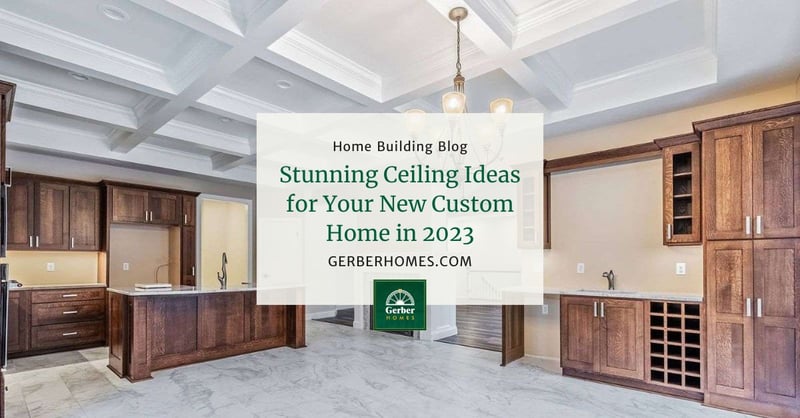 Are you looking for ways to make your custom home stand out? Add one or more of these ceiling types to your Finger Lakes/Rochester home for instant drama.
Vaulted Ceiling
Vaulted ceilings literally raise the roof of your home. The high ceilings draw the eye upward and come in several varieties, including:
Cathedral: Taking their inspiration from the soaring ceilings in cathedrals and churches, cathedral ceilings open up a room, making it feel spacious and airy. Cathedral ceilings feature sloping walls that meet at a point in the center of the room. The gable ends of the room provide ample space for large windows and doors or a massive, floor-to-ceiling fireplace.

Domed: Whether made of plaster, fiberglass, drywall, or glass, rounded domed ceilings add an elegant touch to any room. Your builder can build your dome from scratch or install a prefabricated fiberglass dome.

Barrel: Barrel ceilings resemble the interior of a barrel half and can be used in rooms with high and low ceilings. If the room has a lower ceiling, the curvature of the barrel can be decreased to fit the room's scale.

Groin: Groin ceilings are made up of two barrels that intersect at 90-degree acres, forming four distinct sections.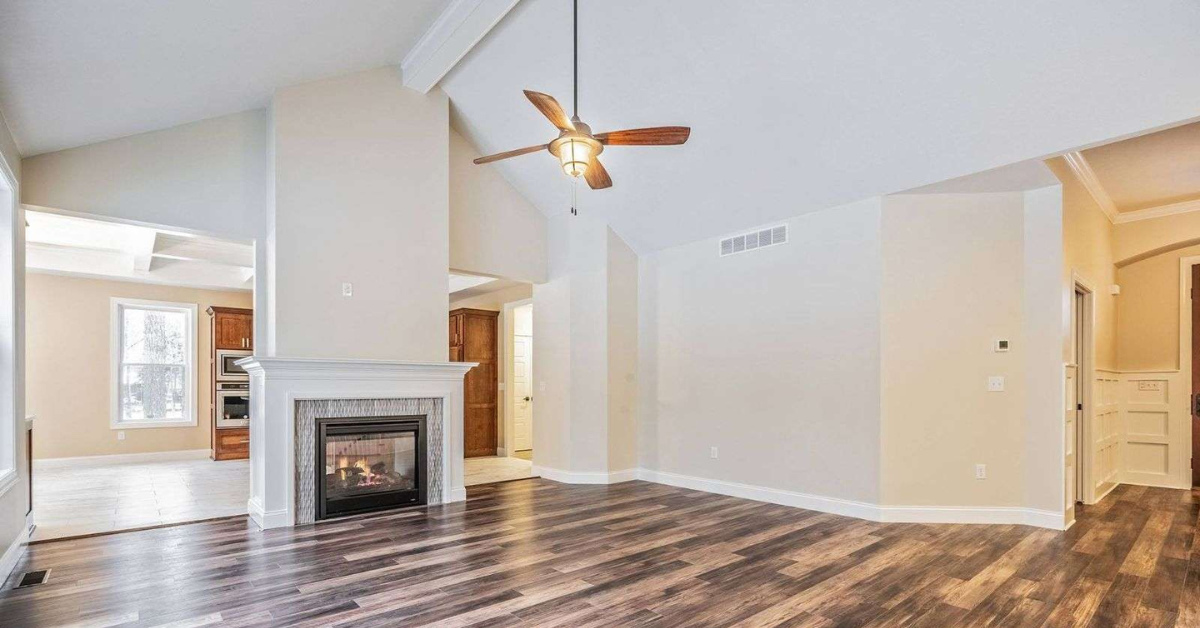 Tray Ceiling
Recessed tray ceilings increase the height of the central part of the ceiling and add architectural interest to living rooms, dining rooms, bedrooms, and other rooms in your home. Personalize your tray ceiling with custom millwork, a pendant light, or a string of LED lights placed around the border of the tray. Softening the edges of the tray offers a twist on the traditional recessed ceiling.
Beamed Ceiling
Exposed beams conjure up images of graceful country homes and storybook cottages. Beams, whether they're rough-hewn or sanded and stained, are just as appropriate for your brand-new Finger Lakes home.
Ceiling beams can be part of the structure of your custom home or a decorative touch for your vaulted or flat ceiling. Cedar, spruce, oak, Douglas fir, and pine are often for structural wood beams, while faux beams are made of high-density polyurethane foam that looks just like wood. Choose ceiling beams the same color as your flooring, or select a complementary or contrasting shade for a more dramatic effect.
Coffered Ceilings
Coffered ceilings add a three-dimensional grid pattern to your ceiling. Although squares are the most commonly used pattern, they're not the only choices. If you prefer, your coffered ceiling can be made up of triangles, octagons, or other shapes. Coffered ceilings are best suited to rooms that are 9 or 10' higher.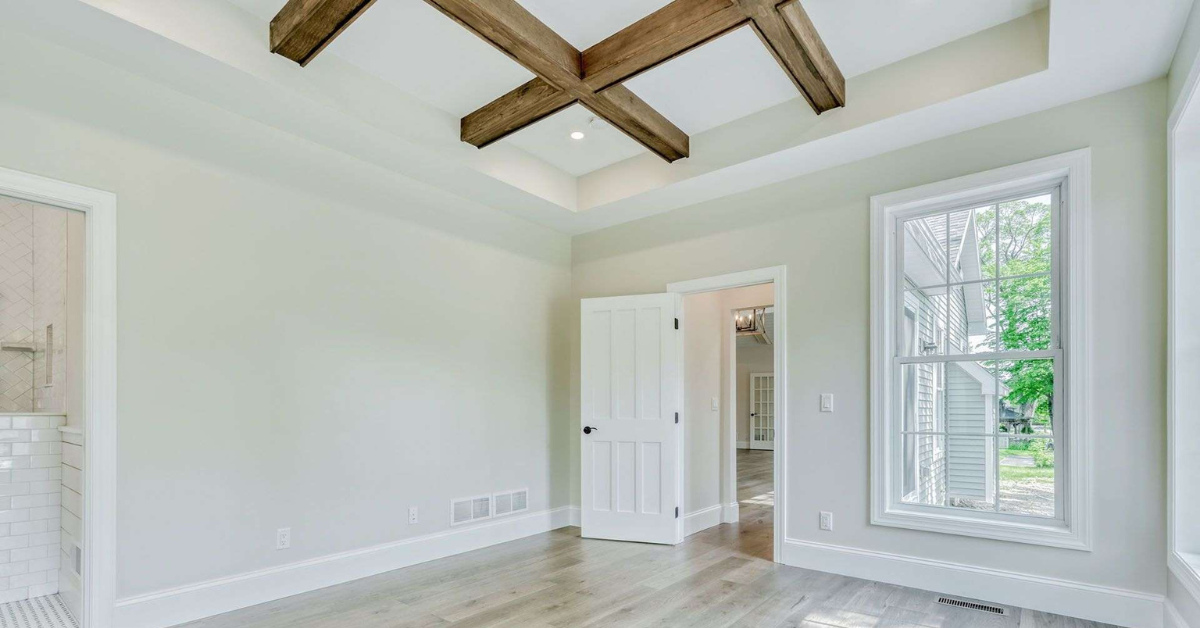 Finishing Touches for Your Finger Lakes Ceilings
Enhance your custom home ceiling with these options:
Paint: Not sure what color to paint your ceiling? White or neutral colors are always a safe choice, particularly for high ceilings. If you'd like to draw attention to your ceiling, paint it a few shades darker than the walls. Matte sheens hide imperfections and give your ceiling a uniform look. When you choose semi-gloss or glossy paint, your ceiling's appearance changes constantly depending on the amount of light available.

Shiplap: Shiplap isn't just for walls anymore. In fact, the wood planks look right at home on vaulted, barrel, coffered, or tray ceilings. Shiplap adds texture, whether it's left in its natural state or painted.

Skylights: Vaulted ceilings offer plenty of space for skylights. In addition to increasing natural light, the rooftop windows improve ventilation and reduce heat build-up when coated with a special film. Homes & Gardens recommends placing skylights in groups for maximum impact.

Lighting: After spending a little extra for your ceiling, the last thing you'll want to do is skimp on lighting. Large chandeliers or oversized pendant lights are ideal for vaulted ceilings. Use smaller pendant lights and chandeliers on a tray or coffered ceilings, or opt for recessed or cove lighting. Adding a medallion under your light showcases your fixture and draws attention to your spectacular ceiling. Medallions are available in a variety of sizes, shapes, and materials.

Patterns: Create patterns in your ceiling by varying the direction of the shiplap, using decorative tile, or installing a tin ceiling.

Wallpaper: Available in various colors and patterns, wallpaper offers an inexpensive way to accentuate your ceiling.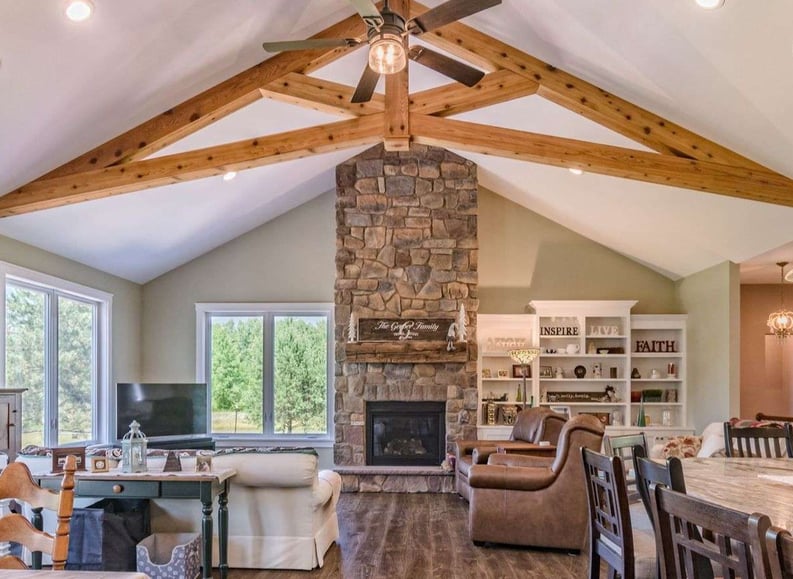 Do you want a Rochester/Finger Lakes home that's anything but cookie-cutter? Our custom homes are tailored to your preferences and lifestyle and include upscale features, like dramatic ceilings and two-story great rooms. Visit the Gerber Homes custom home gallery to see examples of our work, then give us a call or get in touch with us when you're ready to build your new home.