For a lot of people living in the Rochester area pets are a big part of family life. Wouldn't it be nice if the new home you built in the area made your pets feel like pampered members of your family?
There are some innovative (and fairly simple) custom touches you can add to your new home to make it a truly pet-friendly environment. Let take a look at some examples of some things we did recently to help clients create a "Fur Baby-Friendly" place for their pets.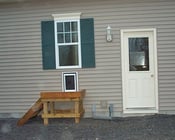 A Pet Portal: If you have a pet that likes to go in and out multiple times during the day, you may get a little weary of constantly opening and closing the back door. Here's a clever solution that let's your pet go in and out whenever it wants (without having to ask you first). This custom pet entrance allows pets to go out anytime through a swinging door that seals out heat, cold, and moisture. It provides a ramp to let animals access the yard easily.
A Window on the World: Both cats and dogs love to perch in a comfortable place where they can survey their domain and keep an eye on happenings in the neighborhood. This pet window seat is perfect for that. It's low enough that pets can easily access it. It's even a nice window seat for children! You can cover it with a washable pillow in order to keep it looking nice. And it may just help keep pets off the furniture!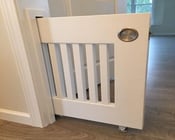 A Custom Retractable Pet Gate: Often families will want to keep their pets contained in a particular room or area of the house. But many people aren't fans of those clunky-looking portable gates that you can buy at pet stores. They often don't fit well and they aren't the most attractive things in the world. Here's a much better solution. It's a custom, built-in, retractable gate that looks like it was actually made to be part of your home (because it was!). This stylish gate operates smoothly and then disappears into the wall when you don't want to use it. You never have to find a place to store it (or look for it later) because it's right where you left it. Plus, it's much more solid and stable than those portable gates from the store.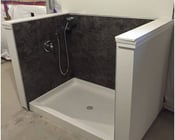 A Custom Pet Spa: Anybody who has ever struggled to give a dog or a cat a bath in the family tub knows what a struggle that can be. And when you're done, there's pet hair all over the bathroom in the drain. This custom pet spa solves that problem. Install this pet shower/bath in your basement, mudroom, or laundry room. There's plenty of space to get your pet in and out without having to life it into a tub. And it saves wear and tear on your family bathroom.
If pets are a big part of your family, we'll help you take care of them and make them feel at home in their new house. And don't worry . . . we won't forget about you, either. We have dozens of great floor plans for you to check out in order to find the perfect fit for the two-legged members of your family. And if you need customization of features on these plans, we're here to help!