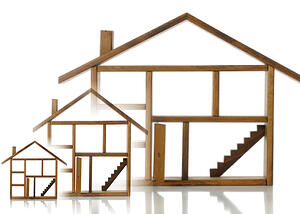 Wallis Simpson, for whom King Edward III gave up his throne in 1936, is credited with saying, "You can never be too rich or too thin." For a while, there seemed to be a similar line of thought when it came to building a new home. The boom of "McMansions" across the country seemed to reflect the attitude that one could not build a house that was too big.
The age of the McMansion seems to have gone the way of the age of Edward III. According to a MSN Money post in October of 2012, the average size of American homes began decreasing (after a steady increase in size from the 1950s until about 2012). However, a more recent (June 3, 2013) post by CNN points to an increase in the size of homes again.
If you're considering building a custom home in the Rochester, NY area, what does that mean for you? Should you build larger or smaller? How big is too big? The statistics may continue to change, but how do you decide on the size of home that's right for you? Let's look at a couple of important issues.
Your Budget: This may be stating the obvious, but more square footage will drive up the cost of your home. You really don't want to build more than you need. And yet, it happens all the time. Homeowners build houses that they really can't afford. When they do that, instead of ending up with a great investment and a sense of comfort and security, they end up stressed by payments they can't afford. Others end up "house poor," with a big house that they can't even afford to finish and decorate the way they want (not to mention utility bills that are higher than they're used to).
Your Needs: There is a flip side to building too big. Some people build too small. They don't plan ahead for changing needs. Maybe they have small children at the time they build and don't think about the need for more space as the kids get bigger. Maybe they don't plan for an elderly parent to move in. Or perhaps they aren't thinking about the possibility of working from home or having guests. And they don't take into account that it's cheaper to build somewhat bigger now than it will be to add on in the future.
Larger doesn't have to mean ostentatious. There's a big difference between planning for the future when you build and building beyond your means. How big is too big? It's when you build more than you can really afford and add space (and features) that you really don't need—and will never take advantage of.
We've got floor plans that range from 1,040 square feet up to 3,605 square feet—in a wide variety of styles. We invite you to take a no-obligation look at these floor plans. We'd love to help you build a home that's not too big and not too small—but just right for your family.