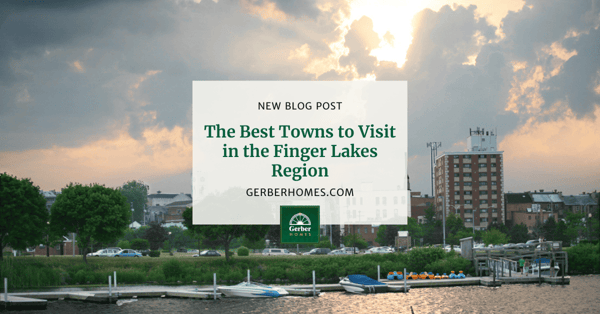 Keeping busy on the weekends isn't difficult when you live in the Finger Lakes region. With so many interesting towns to explore, you'll never have to worry about being bored. These are just a few of our favorite places.
Skaneateles
Skaneateles is an excellent destination for both day trips and longer stays. Located along the northern shores of Lake Skaneateles, the picturesque town offers a vibrant shopping and dining areas full of one-of-a-kind shops, galleries and eateries.
During the summer, visitors and local residents alike enjoying gathering at community band concerts on Friday evenings. Annual events, including the Antique and Classic Boat Show in July, Dickens Christmas in December and the Skaneateles Festival in August, make the town a place you'll want to visit throughout the year.
Geneva
If you believe that no day trip would be complete without a good meal, you'll love Geneva. The town boasts 32 restaurants and bars in a four-block area, ranging from casual dining spots to craft microbreweries to fine restaurants and wineries. In September, Geneva is the site of the Finger Lakes Fire and Smoke BBQ competition, an event featuring live music, barbecue vendors, and of course, teams competing to win top honors in the contest.
While you're in town, enjoy a performance or movie at the Smith Opera House, browse local shops, or stop for a glass of wine or a meal at historic Belhurst Castle, a restored 19th century mansion that offers impressive views of Lake Seneca.
Canandaigua
There's plenty to like about Canandaigua, situated on the northern shores of Canandaigua Lake. Art galleries, stores and restaurants line the downtown streets, making it easy to pick up a few necessities or shop for the holidays.
When the weather's warm, visitors and locals flock to Kershaw Park to swim and boat or catch a few waves at Roseland Waterpark. The town is also home to several museums and historic sites, including the Granger Homestead and Carriage Museum, Sonnenberg Gardens and Mansion State Historic Site, and the Canandaigua Lady, a replica of a 19th century paddle wheeler. The Canandaigu Wine Trail is a can't-miss activity if you love nothing better than a good glass of wine. The 41-mile wine trail includes stops at restaurants, gourmet food shops and the best wineries in the area.
Rochester
It's impossible to see all of the sights in Rochester in a day or weekend, which gives you a good reason to return again and again. Shopping, dining, entertainment and outdoor activities make Rochester a worthy entry on your list of places to visit in the Finger Lakes region.
Brush up on your history with visits to the National Susan B. Anthony Museum and House and George Eastman Museum, then explore the cosmos with a show at the RMSC Strasenburgh Planetarium. If you'll be visiting with the kids, you'll want to make time to see the animals at the Seneca Park Zoo, ride the roller coasters at Seabreeze Amusement Park, or go for a dip at Ontario Beach Park.
You're never far from the fun when you live in the Finger Lakes. If you've been thinking about making a move to the area or already live here and are ready to build a new home, get in touch with us to explore the possibilities.