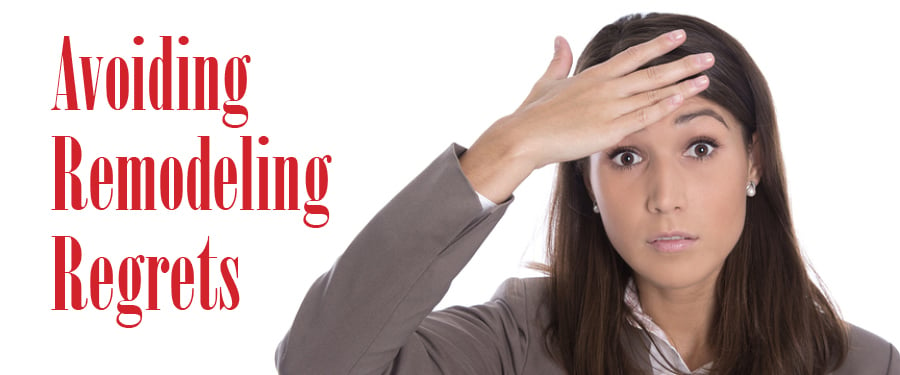 How you think about remodeling your home depends a lot on your perspective. If you're looking forward to the process, it can be fun and exciting (and even a bit overwhelming). If you're looking back on the process, you can either be delighted with the outcome—or you can have a case of buyer's remorse because it didn't turn out the way you planned. Here's a look at avoiding remodeling regrets in your Rochester-area home so that you'll be happy with the outcome for years to come.
What Remodeling Veterans (Homeowners) Have to Say
A couple of years ago, Houzz.com did a survey of homeowners asking them to identify their biggest remodeling regrets. You can read all of the comments here, but let's look at a few comments that are representative of the challenges many homeowners experienced.
Finding honest, reliable and talented contractors (which is more challenging than most people assume it will be)
Doing EXACTLY what you want when everything's torn apart, which is almost ALWAYS more cost effective on the front end than trying to do it later. It might cost you a few extra bucks, but spend it now to avoid regretting it later (and it will be more expensive if you can't live with it and want to change it in a year or two)
Not expecting it to come in on-time and on-budget. Expect it to be finished later than you thought and cost more than you thought.
The biggest mistake I made in the past was "settling" for something when I didn't want to spend the extra money to get what I really wanted. So I purchased the less expensive item only to redo it later down the road because it was not really what I wanted and then I wasted even more money. [It's better to] wait until you can buy what you really want, it will be so less expensive in the end.
Let's look at those key issues in a bit more detail.
Who You Work With Matters
Finding honest, reliable and talented contractors.
So how do you go about selecting the "right" remodeler? Whether you're remodeling or building a new home, it's essential that you find a builder who is worthy of your trust. But how can you establish that? One good way is to talk to past clients and ask about their experience.

Know What You Really Want (What's Really Important)
Doing EXACTLY what you want
It's important to have a clear idea about what you want your remodeling project to accomplish. You need to know exactly what you want and communicate it clearly to your remodeling contractor. And your remodeling company needs to make sure he or she listens carefully and understands exactly what you want. That's why t's so critical to work with a remodeler who listens to you.
The National Association of the Remodeling Industry (NARI) provides some Remodeling 101 suggestions. Organizing your ideas and plans is important for sure, plus part of the process involves prioritizing what's most important to YOU. That helps you and your contractor creating the perfect plan for your remodeling project.
Set Realistic (and Flexible) Expectations
Not expecting it to come in on-time and on-budget
First of all, budgets and schedules are important. A reputable remodeling company should be able to provide you with a realistic budget for your project and should also be able to tell you (within reason) when your remodeling project will be completed. There are, however, a number of factors that can influence both your budget and your schedule.
Material prices can fluctuate. The popularity of certain items can cause prices to go up. So can scarcity. Custom-orders can impact both prices and schedules. Weather can sometimes cause delays. Changes you make to the design or the materials can cause slowdowns as well. Sometimes you'll get something in your home (such as tile for a backsplash) that looked great in the showroom but just doesn't look right in your house. You're not going to want to settle for that (see below), but it can affect both the price and the schedule. You may have to be a little flexible. The same goes for your builder. While you don't want a project to go on for months beyond your projected completion date, it's generally worth it if things take a few days longer—in order to get them the way you want them.
One thing that makes setting realistic expectations difficult is that our emotions often get involved. That's not a bad thing! As builders/remodelers, we want you to be excited about your home. Knowing what to expect and how to handle the process can make things a lot less stressful for you.
Don't "Settle." A Budget is a Tool, Not a Goal
The biggest mistake I made in the past was "settling" for something
Quite often, the reason homeowners "settle" for less than they want is because of the cost. Naturally, you want to be smart about how you spend your money. Setting a realistic budget is important. But keep in mind that your budget is a tool—it's not your main goal. There are times when it's worth spending a little bit more to get what you really want.
At Gerber Homes, we've been building and remodeling homes in the Greater Rochester area for almost 40 years. In all that time, I don't recall a single incident in which a homeowner said, "I wish I hadn't spent so much." On the other hand, we've heard plenty folks comment they wished they had spent "just a little more" to get what they really wanted. Chances are very good that you'll live with your remodeling project for many years. Make sure you get what you really want.