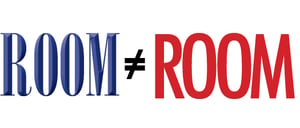 One of the benefits of building a custom home is that you have the ability to personalize the design to fit your needs and desires. For many homeowners, that means opting for a little more space. It's easier—and cheaper to add rooms while you building your home than it is to add rooms later. But when it comes to adding space in that way, not all rooms are created equal—especially when it comes to cost.
When you look at floor plans, you'll often see two variations of additional rooms: "Bonus Rooms" and "Option Rooms." They're not the same thing, and knowing the difference can save—or cost—you money.
Bonus Room:

A bonus room is a relatively inexpensive addition. It takes advantage of an existing foundation and roofline. A common place for a bonus room is over a garage. You can use that space as a Master Bedroom or a large entertainment room, or even a large home office. Because the foundation and roof are already in place, it's not as expensive to build this out. You also have the option of leaving this room unfinished to save some money on the initial construction if your budget is tight. Then it's relatively easy to finish the room later if you require more space down the road (say, when your kids get bigger).
Option Room: Today, option rooms are quite popular. Most plans for these rooms are for Morning Rooms, Sunrooms, or extended Family Rooms (or Great Rooms). Because they are located on the main level, they require a larger foundation (which means additional excavation and cement). They also require extra roofing because they don't fall under the main roofline of the house. These rooms can be beautiful additions—but you'll pay more for them than for a comparable Bonus Room space.
It's important to note that a bonus room over the garage doesn't fulfill the same function as a Sun Room or Morning Room. It's not a question of which is better. It's simply that an Option Room will generally cost more to add than a Bonus Room because of the labor and materials involved in creating it. It really comes down to what kind of space you need—and what your budget will allow.