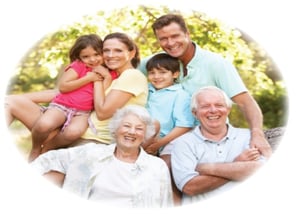 Are In-Law homes making a comeback in the Greater Rochester area?
A few decades back, multiple generations of a family living together were the norm in this country as grandparents helped care for kids and adult children assisted their parents as they aged. With today's demands of two-career households coupled with economic strains, more families are again choosing to bring different generations under one roof."
This means housing needs are also changing. With the high cost of assisted living centers, and demands on time and resources to drive to an aging loved one's home, many families are stretched. Thus, the "Sandwich Generation." Caring for elderly parents, and raising children, at the same time. Throw a career or two in there, and there is little "family time" left.
Perhaps that's why many families are going back to a solution our ancestors used. We know it as the "In-Law Suite." In-Laws are additions on the main home. Aging loved ones have the privacy of their own area, yet still be close enough for help, if needed. For some families, the answer is to convert a garage into a beautiful apartment, complete with kitchen and bath - others build an addition to their existing home.
Other families are looking for a new home that is tailor-made for everyone's needs. Take a look at The Walton. This floor plan appealed to Sherrie and Brenda who wanted to plan for the future and have their in-laws be able to live on the main level versus having to deal with stairs.
Editor's Note: Originally posted May 17, 2012