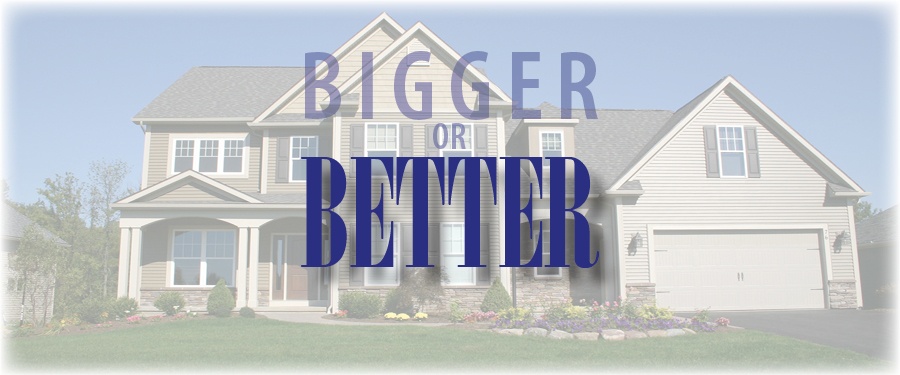 Smart home shoppers in the Rochester area know that it makes sense to keep an eye on trends in housing. They don't want to find themselves living in a house with an outdated design or sense of style. They also have a sense that it makes sense to look for classic, enduring design rather than to blindly pursue the latest "hot" styles. It does, however, make sense to be aware of broad trends in the housing industry. I'm not talking about "This Year's Bold New Colors," or "Are Stainless Steel Appliances Dead?" Instead, I'd like to talk a bit about a couple of 2018 housing trends that the National Association of Home Builders (NAHB) has been tracking.
Bigger Isn't (Necessarily) Better
The first piece of information (as documented by the NAHB Economics & Housing Policy Group) is that in general, new houses are a little bit smaller than they have been. They're not talking about the "Tiny House" movement that tends to get a lot of press. They're talking about the average/median size of homes across the country.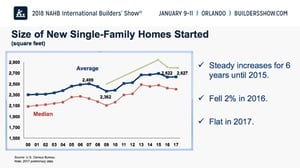 As you can see from this chart (from the 2018 NAHB show) the size of homes has steadily increased over the years. There was a dip around 2008 and then the overall size of homes flattened out in 2013. We're not talking about a huge shift here, but it is a break from past trends. One way to interpret this trend is to say that homeowners may find the overall size of their homes less important than their home's overall quality. They're after floor plans that deliver more efficient and comfortable use of space than simply more space. It's also probably safe to say that homeowners are aware of the costs to maintain (especially heat and cool) larger spaces.
I would like to offer a caveat. While bigger isn't necessarily better, there are times when there is simply no substitute for additional square footage. Here's an article that looks at those cases when sometimes bigger is better!
Better is Better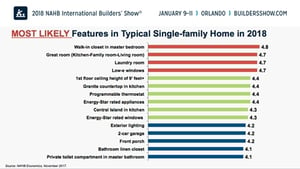 So if size is perhaps less important, what is it that will make a home better? This chart from NAHB highlights the features that industry research indicates will be the most likely features to appear in new homes for 2018. Those include (in order of popularity):
Walk-in closets in master bedroom
Great room (Kitchen/Family/Living)
Laundry room
Low-e windows
9' first floor ceiling height
Granite kitchen countertop
Programmable thermostat
Energy-Star appliances
Central Kitchen Island
Energy-Star windows
Exterior lighting
2-car garage
Front porch
Bathroom linen closet
Private toilet compartment in master bath
The NAHB research shows that these are what most people will be looking for—and expecting to find in any new home they consider. Your specific list might be a little different. There may be things that aren't on this chart that you'd definitely want. There also may be things on here that you hadn't thought about—but recognize as being things you would value.
Obviously, your personal needs and sense of style are the most important things to consider. But these are at least some of the features you'll want to think about to make yourself comfortable in your home for a good long time. And if you keep an eye on resale value, these are things that future buyers will be looking for if and when you should decide to sell your home.
Let's be clear: There is no "magic" number for determining exactly how big your new home should be. And there's no specific set of features that will fit the needs and desires of every homeowner. It really comes down to finding the floor plan that really fits your family. And when it comes to choosing the right floor plan, Gerber can help!
So keep your eye on general trends in the homebuilding industry. And make sure you choose what will make you happy—and hold its value.
Adapted from the original published Jun 18, 2014 @ 07:06 AM