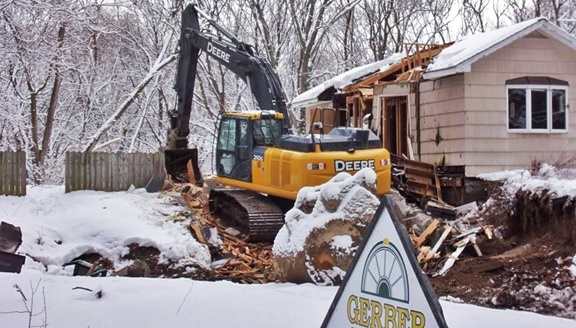 Sometimes a remodeling of your Rochester-area home involves a bit of a cosmetic "face-lift." Perhaps you want to make your family room a little brighter. Or you may decide to reorganize your kitchen so that it's more efficient. Maybe you want to take advantage of unused space in your basement or attic to give your family more living space. There are times, however, when remodeling is more than just freshening up your home. We'd like to walk you through a recent remodeling project we worked on in 2018 that started (literally) from the ground up.
Clearing the Way
To be honest, before we could do anything else, we had to remove the existing home in order to begin construction on the new home. That meant not only demolishing the old home, but also removing the existing foundation.
Setting a Firm Foundation
Because the home was a complete redesign, we started with a brand new foundation. As you can see, there's more involved than just digging a hole and pouring concrete. It takes a bit more time, but it's the right way to do it!
Focus on Framing
Here's where it actually starts looking like we're building a house! What you don't see in this image is the insulation and siding that help make this an energy- efficient home. We take energy-efficiency seriously in the way we build—and in keeping our clients aware of new developments.
The Not-So-Sexy Stuff
Some of the most critical parts of the building/remodeling process involve things that aren't all that sexy at first glance. Who really gets excited about ductwork and HVAC systems? Actually, we do, because they play a huge role in making sure that your new home is comfortable (without costing you a fortune in utility payments).
Homeowner Involvement
We know how important it is for you to be involved in something as personal and critical as your home. That's why we keep you in the loop during the process. We even have some suggestions on how you can be effectively involved in what's going on.
Finishing Well
Choosing the right finishes is an important part of the process. That includes selecting things such as cabinets and flooring. It's also fun and exciting to see an important room such as the kitchen taking shape before your eyes. Because the kitchen is so important, you'll want to make sure you take the time to research and plan the ideal kitchen before you begin construction.
Exterior Touches
While things are taking shape inside the home, there are still exterior touches that are being added. Pouring concrete and adding stone finishes help add that touch of substance and make your home look "finished."
Move-in Ready
Finally! After a lot of preparation, heavy lifting, and times when progress seemed slow (even though it was necessary), you're ready to move into your newly finished—and beautiful home.
Good News! It Won't Always Look Like a War Zone!
There are a lot of elements that go into the process of remodeling or building a new home. There may be times when you come out to look at the project and it will look more like a war zone than a home. That's a normal part of the process. The good news is that it won't always look that way—and we think you'll be delighted with the finished product!
By way of proof, here's a look at some of the finished rooms from this house we've been talking about.
Here's the finished Great Room.
It looks a lot different with all the finishes completed and the fixtures in place. Imagine what it will look like with rugs, furniture, and people!
Here's the Kitchen.
It may not have looked all that inviting before all the cabinets where in place and the hardware had been put on. But with those things completed, new flooring in place, and great lighting, it's a warm and welcoming space! Look at how bright and open it is.
The Inside Even Looks Good From the Outside.
Here's another look at the kitchen through the patio door. A beautiful exterior gives way to a glowing interior that invites family and friends inside!
This is when you look back and realize you're glad that you took the time to plan ahead. And you're also glad you worked with a trusted builder/remodeler who took your wishes, ideas, and dreams and helped you achieve them!
There are a lot of phases of the building/remodeling process that we didn't cover. And we just scratched the surface of what we did talk about. We offer helpful resources to answer your questions, whether you're planning a kitchen remodel, a bathroom remodel, or a whole home renovation. We'd love to help you through the process so that you can enjoy the home of your dreams!