10 Reasons to Move to Greater Rochester and the Finger Lakes Area
With a population of over 1.2 million people, Rochester is New York's third largest metropolitan area. The area is vibrant with history and culture. There is never a dull moment in Rochester, between festivals, concerts, dining, golf, sporting events, hiking, and everything in between! While Rochester boasts some of the best nightlife for young couples, it is also an extremely family friendly area for those looking to settle down and plant roots. There are so many reasons to move to this incredible city, but here are the top 10.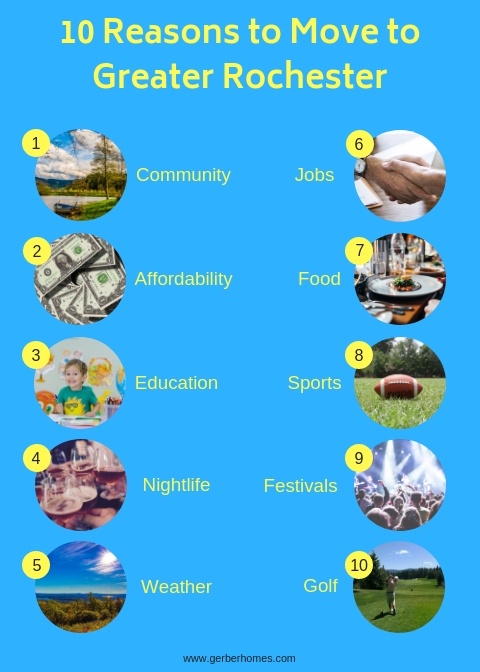 Community
With Rochester's quick growth, the surrounding suburbs have grown as well. Affordable and up-and-coming, these popular suburbs are a wonderful place to raise a family.
Canandaigua, home of the Canandaigua Wine Company, is only 24 miles from Rochester and is best known for its food and drink industry. The New York Wine & Culinary Center has found its home in this suburb, and maybe you can too!
Webster, named after the famous orator Daniel Webster, is a beautiful suburb tucked away along Lake Ontario. Roughly 550 acres of Webster Park stretch along the rolling coast, a perfect place for hiking, biking, and spending time with family and friends.
Another popular suburb of Rochester is Ontario, New York. While much smaller than most other suburbs in the area, Ontario boasts a quiet, friendly community for raising a family.
Mendon is a very popular suburb of Rochester for those looking to raise a family or live nearby their place of work. Just 20 miles south of Rochester, this city is known for its affluence and comfortable living. Mendon offers a wonderful museum, fantastic dining options, and other great amenities, lending to its popularity.
With plenty of other suburbs to choose from, make sure you contact a builder who is familiar with the area and who can deliver you what you want in the right community for you. Gerber Homes has been building in the Rochester area for decades, and we know we can find the perfect floor plan and community for you!
Affordability
Families choose to move to the Greater Rochester area because the cost of living is significantly below the national average. Just look at some of the rankings the Greater Rochester area has received:
Education
Rochester has several great universities and colleges to choose from including the University of Rochester and the Rochester Institute of Technology (RIT). The area also offers six high schools that have been ranked among the top 3% in the U.S. Greater Rochester is an excellent place to raise a family in large part due to the education offered. Just look at some of the rankings:
Night Life
For a night out in Rochester, many people head to the East End area. It is home to some of the most popular bars and nightclubs in the area all within a 1/4 mile radius. If you don't care for the nightclub scene, there are many popular specialty bars located in the South Wedge area including the Solera Wine Bar, Tap and Mallet, and the Lux Lounge.
Weather
In Greater Rochester, you will get to experience all four seasons. During spring, there is a mix of sunny and rainy days with an average temperature of 45.9°F. In the winter, the area typically sees an average of 90 inches of snow annually and an average temperature of 27°F. The summers are warm, but quite enjoyable with an average temperature of 68.8°F. In the fall, you can look forward to beautiful crisp days and an average temperature of 51°F. Learn more about the weather in Greater Rochester here.
Jobs
Forbes ranked Rochester as the #1 city in America to find a job in 2015. With a ranking like that, it's no wonder why so many people are relocating to Rochester and the surrounding Finger Lakes area. Companies like the University of Rochester/Strong Health, Wegmans Food Markets, and the Rochester General Health System employ many of the residents in the area.
Not only are jobs easier to find compared to some cities across the US, but the median base salary to median home value in Rochester is one of the best in the country. The housing market in the area is incredibly affordable and continues to be expanding with the influx of those looking for work and a new lifestyle.
Food
It doesn't matter if you are the pickiest eater around or if you have an insatiable sense of adventure when it comes to trying new foods, Rochester is a city of food lovers. Ranging from American style dining to Italian, Middle Eastern to Mexican, and everything in between, Rochester has it all! On the go stands, mom and pop shops, dine-in restaurants, and food trucks, you will never go hungry while in Rochester. Some of the top restaurants in Greater Rochester include Lento, The Owl House, The Revelry, and Tony D's.
Sports
Rochester is a great city to live in if you're a sports enthusiast. The area offers many professional sports teams like the Rochester Knighthawks and the Western New York Flash. It is also home to many minor league teams like the Rochester Americans and the Rochester Red Wings. If you prefer to watch NFL or NHL teams, it's just an hour and a half drive to Buffalo to see the Buffalo Bills or the Buffalo Sabres play. If you or your family members are interested in playing team sports in the community, there are many programs across Greater Rochester for both adults and children.
Festivals
Greater Rochester has been referred to as the "Festival City." due to all of the nationally recognized festivals held each year. Some of the most popular festivals in the area include the Xerox Rochester International Jazz Festival, Lilac Festival, Park Avenue Festival, and the Corn Hill Arts Festival. Check out this list to learn more about upcoming festivals in Greater Rochester and the Finger Lakes.
Golf
With over 62 breathtaking golf courses across the city,

Rochester is a golfer's paradise! It has been ranked:
Three golf courses from Golf Magazine's Top 20 Best Public Golf Courses in NY list are located in Rochester: Ravenwood Golf Club(#7), Greystone (#14) and the Bristol Harbour Resort (#17)
Cities Near Rochester to Visit
Looking for a stay-cation or a day trip over a weekend? Rochester is not only filled with its own fun, but it is also surrounded by exciting cities that you should see for yourself.
Planning a trip to Buffalo, New York? You should be! There's plenty of sites to add to your must-see list, including museums, restaurants, parks, and more.

Roughly an hour and a half east of Rochester you will find Syracuse. Known for its jazz festivals, street fairs, and sporting events, this city is the perfect day trip to get out and explore another side of New York life.

Niagara Falls is one of the largest tourist attractions in the Americas. Don't miss this breath-taking site only driving distance from Rochester!
Is Moving to Rochester for You?
With so much to do in this wonderful city year round and for anyone and everyone, we highly recommend moving to Rochester. If you have any questions about the city or how to find a home in the area, please don't hesitate to reach out to us! We are here to help.