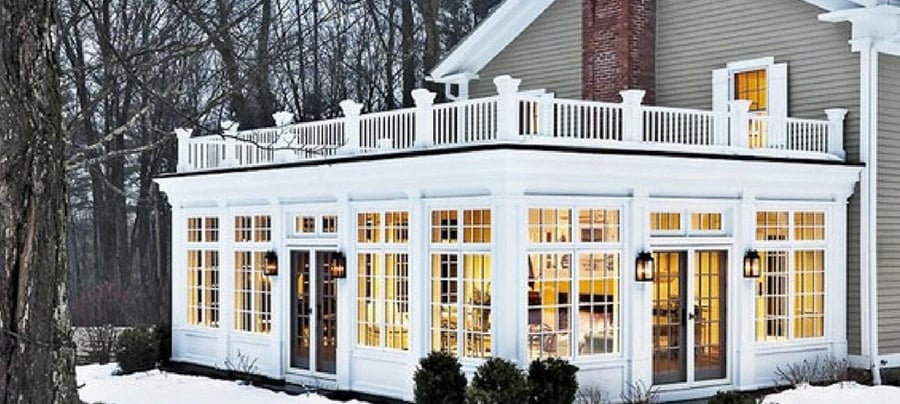 We've all heard that it's what's inside that really counts. But is that really right? Is it true that what people see from the outside is simply superficial? For a lot of the homeowners in the Rochester area, the outside appearance of their home is extremely important as well. In addition to making a home aesthetically appealing, exterior remodeling can add functionality, increased, comfort, and value to your home. Let's look at some examples where what's outside is just as important as what's inside your home.
Replacing Doors
A new door is a cost-effective way to refresh the look of your home and increase its curb appeal. A new door, however, does more than just making your home more beautiful. Adding a new door can also improve your home's energy efficiency, provide better accessibility, and add a layer of security to your home. Plus, many homeowners are surprised to discover that replacing their front door provides one of the highest returns on investment of any remodeling project! Click here for a look at some fantastic entryways that can really dress up your Rochester home.
Adding a Deck
Adding a deck to your home increases the useable living space in your home. It's like having a whole extra room in warmer weather! And even when the weather turns cold, the visual impact can make the inside of your home feel larger. It's a great place to entertain or just hang out with the family. And it adds curb appeal—and value—to your home. Click here for some additional ideas on how you can enhance your deck.
Putting on a Porch
Some homeowners prefer the closed-in feel of a screened-in porch. It's a great way to blur the lines between outdoor living and indoor living. You can enjoy the fresh air and gentle breezes without the annoyance of fending off insects. It's open, and yet, provides a bit of privacy. It expands your living and entertaining space. Also, a porch can let you enjoy being outside—even in a gentle rain. It also adds curb appeal and value to your existing home. Click here for some alternatives to putting on a porch.
Replacing the Roof and Windows
You may not think of your roof as being a very sexy part of your home, but it's so important. The same is true for your windows. Both of these external improvements can enhance your home's energy efficiency (and your level of comfort inside your home). New windows not only improve the appearance from the outside, but they can also improve the way things look on the inside. Today's windows tend to be larger—letting in more natural light. But they also keep out harmful UV rays. That's important, given the popularity of open plan living spaces today.
Superior Siding
Replacing the siding on your home can make a dramatic improvement on your home's appearance, but it delivers more than just good looks. It is essential to the integrity of your home's structure. It can increase the efficiency of your insulation, and help to maintain the structural integrity of your home. It can also reduce maintenance. All of those things add to your home's value.
You may spend the majority of your time at home inside. But making improvements to the exterior of your home adds a lot of value and comfort—and makes your whole home more useable. Plus, there's the added benefit of driving up to a home that looks fresh and welcoming.