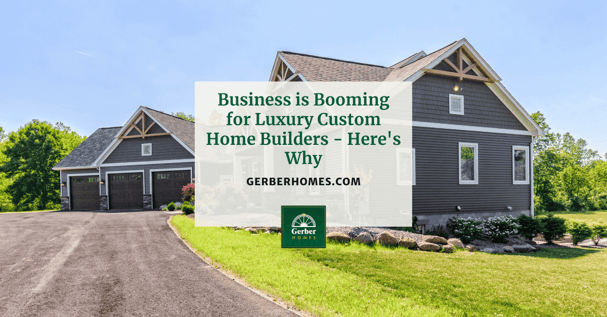 You won't find home builders whiling away the hours playing Candy Crush or watching funny TikTok videos. Thanks to the increased demand for luxury new homes, builders are busier than ever. As more and more people throughout the state and country realize that the Rochester/Finger Lakes area is the ideal place to build a new home, they're turning to luxury home builders to help them realize their dreams.
Why Luxury Custom Home Builders Are So Busy
Good schools, beautiful homesites, low crime, abundant recreational opportunities, and easy commutes make our area the ideal place to build a custom home. These factors also play a part in the local building boom.
Homeowners Want More Bang for Their Bucks
Why pay hundreds of thousands of dollars to buy a cramped apartment in the big city when you can build a spacious home for the same amount or just a little more here? If you've recently sold your home, you may be surprised by just how far your money can go in the Rochester/Finger Lakes area. For the price of a small house or condo in an urban area, you may be able to afford a four-bedroom, 2 ½-bathhouse with a family room, luxury master bedroom suite, spacious kitchen, and multi-car garage on an acre of land.
Who Wouldn't Want to Live in a Beautiful, Convenient Location
If you're looking for a scenic location, there's no better place than the Finger Lakes. Imagine watching the sunset from your lakeside property or viewing deer and wildlife from your private wooded lot. No matter where you live, you're never far from the quaint towns that dot the area and are within easy commuting distance of downtown Rochester. The land is readily available throughout the area, making it easy to find the ideal spot to build a custom home.
There's No Substitute for Quality Construction
During the building boom in the early 2000s, homes were completed at record speed. Unfortunately, constructing houses fast enough to meet the overwhelming demand meant that some builders cut corners.
As a result, homeowners spent thousands of dollars to replace roofs, plumbing, drywall, and wiring in the first years that they owned their homes. If you live in a house built with inferior building products or questionable building techniques, you're probably ready to upgrade. When you build a luxury custom home, you'll get a solid home built by craftsmen who take pride in their work. They'll use superior building products and the latest techniques to create a home that will stand the test of time.
Buyers Want the Ideal Place to Live and Work
The COVID-19 pandemic has changed the way many people in the U.S. work. As coronavirus lockdowns stretched on, it became clear that many employees could do their jobs just as easily at home as at the office. Although some employers are requiring employees to return to the office five days a week, others are offering hybrid schedules or fully remote work. In fact, 36% of companies surveyed by Pearl Meyer said that they'd like to reduce the size or number of their offices.
Employees may appreciate the flexibility offered by working from home, but finding a comfortable, quiet place to work is a challenge in many homes. When you build a custom home, there's no need to work in a makeshift office in the basement or guest room. You decide where your office will be located, how big it will be and what it will look like. If you and your spouse or significant other will be working at home, you can even add two home offices to your home. Installing high-quality soundproofing products will ensure that you're not distracted by noise from other areas of your home.
Interest Rates Are Too Low to Pass Up
Lower interest rates, another effect of the COVID-19 pandemic, offer important benefits for buyers. When interest rates are low, buyers can up their home-buying budgets and get more houses for their money. Although it's impossible to predict exactly when interest rates will rise, many financial experts surveyed by Time believe that rates will remain stable or increase only slightly through the end of the year. If you've been thinking about building a luxury custom home, it makes sense to start the process before interest rates begin to rise.
Experience counts when it comes to building custom homes. Our team has built plenty of luxury homes throughout the Rochester/Finger Lakes area and is ready to help you create a home that you'll love for years to come. Be sure to get in touch with us if you're ready to build your dream home.