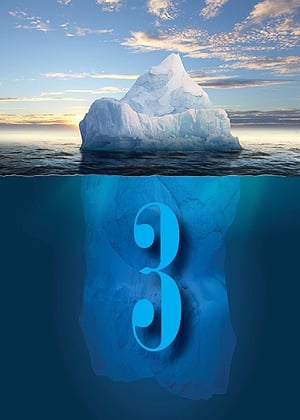 Most of us know that when you're looking at an iceberg, what's below the surface matters more than what you see above the surface. It's the hidden danger that presents the real problems. The same principle holds true when you're planning a new home in Canandaigua. Sometimes little things can have a big impact on your building experience—and on your enjoyment of your new home.
Let's take a look at three things that may not seem that big at first, but which can have pretty serious ramifications down the road.
Setting an Unrealistic Budget.Setting a budget for your new home may not be the most fun part about building a new home in Canandaigua, but there's no denying its importance. The thing is, there are actually two ways this small choice can have a big impact. If you plan on more home than you can really afford, it can cause a lot of stress. Some of that can come during the building process when you want to make some relatively minor modifications that would make your home more comfortable. If you're maxed out to the last dime you won't be able to make adaptations. Or you may not be able to handle unexpected expenses that come up. On the other hand, if you try to cut corners on a home (when you can realistically afford it) you may get the "bargain" you were after, but you'll very likely be unhappy with the features of the home. And if you make changes later (to get what you really wanted) it will actually cost you more.
Selecting a Floor Plan That Doesn't Fit: Make sue the floor plan you choose really fits your lifestyle—and will continue to meet your lifestyle for years to come. As you look at plans (and we have plenty of options from which to choose) take into consideration how you like to entertain. Think about how your family may change in five years or so. And keep in mind that it's not just the amount of square footage that matters, but how the rooms are configured. If you want a home that offers you the option for main level living down the road, plan ahead for that now.
Settling for the Wrong Builder.Not all floor plans are created the same and not all builders are the same. You want to deal with a builder that has experience, a good reputation, and who has built the kind of home you want. Perhaps the most important thing you want to look for is a builder you can trust. Obviously, you'll want to see examples of what your prospective builder has done and you'll want to check references. But trust is built on more than that. In many ways, trust is built by knowing that you have a builder that will listen to you and take your ideas, dreams, and questions to heart. Here's a helpful post that talks about the importance of finding a builder who will earn your trust by listening to you.
Those three things may not seem monumental when you're beginning to plan your new Canandaigua home, but ignoring them can have a huge impact on the home you're planning to live in for years to come.