Location is one of those things you can't change about your home. It's easy to add additional bedrooms or enlarge your kitchen, but there's nothing you can do about a poor location. Fortunately, you can avoid buyer's regret by thoroughly researching the neighborhoods on your list of possible home sites. In the Rochester/Finger Lakes areas, these areas are particularly popular with homeowners.
Fairways
If you've always dreamed of living in a community with golf course views, Fairways, located in Sodus, might be the perfect spot for you. Homes sites border the Sodus Bay Heights Golf Course and are minutes from Lake Ontario, stores, parks, ski slopes, and Sodus Bay beaches. Children attend the Sodus Central School District, which serves more than 1000 students in grades Pre-K through 12. Rochester is just about 40 minutes away, and you're just as close to other Finger Lakes towns.
Fieldstone Estates
Located in Rush, Fieldstone Estates offers lots ranging in size from just under 1 acre to 4 acres. The home sites offer the best of both worlds. You'll have plenty of privacy in a rural setting yet be just a short drive from stores, restaurants, and other amenities. Fieldstone Estates is an excellent choice if you work in Rochester. You can expect to spend about 20 minutes driving to and from the city. If you have kids, they'll attend the Rush-Henrietta Central School District. The district serves more than 5000 students and received an "A" rating from Niche.com's school ranking list.
Summer Lake
Does your dream home offer stunning views yet isn't too far removed from civilization? Summer Lake may be the ideal spot to build your new home. You'll enjoy views of Lake Ontario from your deck, yet only have to travel 1.5 miles to reach the stores and attractions of Webster. Although you'll only be 25
minutes from the action in Rochester, you'll feel as if you're thousands of miles away. Children attend the Wayne Central School district, which serves 2000 students in grades Pre-K through 12. The district received an A- ranking from Niche.com.
Fox Ridge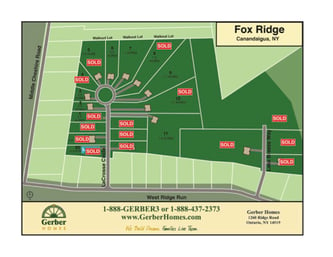 You'll never be bored when you live in Fox Ridge. Depending on the lot you choose, you'll have room to garden, add a pool or bird watch in your wooded backyard. When you're ready for a little excitement, downtown Canandaigua beckons. Whether you want to shop, dine, browse an antique shop or revisit history at the Granger Homestead and Carriage Museum, you'll find plenty to do in Canandaigua year-round. If you have school-aged children, they'll be among the 3500 students at the A-rated Canandaigua City School District. Your trip to Rochester will take just about 40 minutes.
Centennial Village
Centennial Village in Ontario offers .25 acres lots and a peaceful, waterside location. Centennial Village offers the ideal location if you lead an active lifestyle but don't want to have to drive to a distant park to get in your steps. A large pond in the middle of the community offers fishing, canoeing, hiking, and biking. If you work or play in Rochester, you can expect to spend about 25 minutes on your commute. The Wayne Central School District also serves the children of Centennial Village.
Have you been having trouble finding a neighborhood that's close to Rochester yet offers all of the amenities you want? Check out the Gerber Homes communities in the Rochester/Finger Lakes areas. One of them may be just right for you.