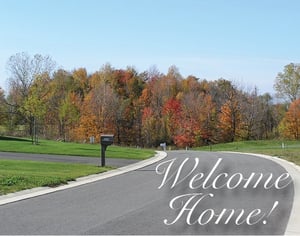 One of the most important aspects of building a new home in the East Rochester area is deciding where you're going to live. While you certainly want to pay close attention to the floor plan you choose for your new home (to ensure your home fits the needs and lifestyle of your family), the fact is that you won't spend all of your time inside the walls of your house.
Just as the design of your home should fit your needs and personality, you'll want your community to reflect your lifestyle and sense of home. The good news is that in addition to lots of home design options, you also have a nice variety of communities from which to choose in the greater Finger Lakes region.
Let's take a closer look at just a few.
Webster is known as the place "Where life is worth living!" and this community has a lot to offer, including employment opportunities as it is home to a number of established businesses and start-up companies. Webster also places a high value on its pristine environment, and recently purchased 1,023 acres of land to be used for hiking trails and other recreational activities for current and future generations. There are also numerous parks throughout the town and village, including Webster Park with its breathtaking views of Lake Ontario. Another great feature of the town is the Webster Arboretum in Kent Park, which has an incredible variety of plants, flowers, shrubs, and trees. The town is also conveniently located near State Route 104 allowing residents easy access to downtown Rochester or the Greater Rochester International Airport within 15-25 minutes. With an excellent geographical location, business and educational opportunities, and a friendly, community environment this might be your pick. You can also check out what's going on in Webster on their Facebook page!
Huron is named after the Great Lake that borders the town on the north, and is a superb location for those who love open spaces. The topography of the town is comprised of rolling hills, tracks of wooded areas interspersed over acre upon acre of open land, crop fields, orchards and pasture land. Agriculture and farming are an essential and integral part of the character of the community. Huron offers the benefits and enjoyment of extensive public waterways and resort facilities and properties. For those looking for a community with a truly rural character, this is an ideal spot.
Fair Haven prides itself on being a place for all seasons. A quiet and peaceful community along the southern shore of Lake Ontario, Fair Haven offers small town hospitality that is enjoyed by visitors year after year. Located on the Seaway Trail, between Rochester and Syracuse, Fair Haven, NY has year round seasonal activities for everyone, including winter activities such as the Winter Festival and the annual Winter Festival Progressive Dinner and Dance. For more events, check out Fair Haven's events calendar!
We invite you to check out the other great communities (and new home options) in the East Rochester area so that you can find the home and the community that best fits your family's lifestyle and personality.