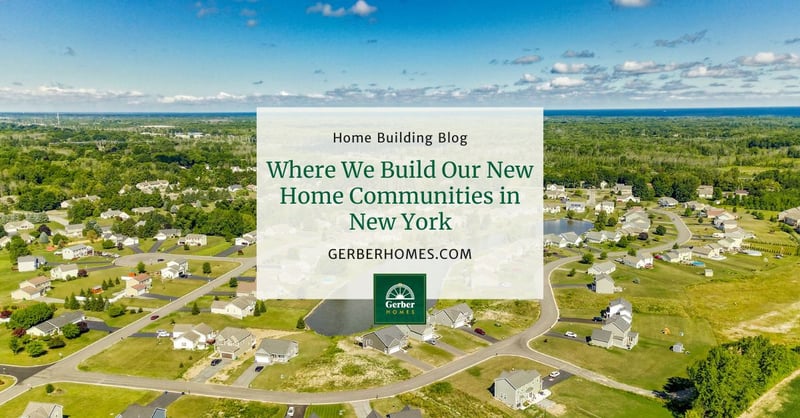 If you're considering building a new home in the Rochester area, you've no doubt heard the real estate mantra: "Location, location, location!" Where you build, your home is as important as the style of home you build and choosing the right floor plan. But there's much more to choosing your home's location than just the physical coordinates on a map, and finding a community that feels like home is a big factor for many homeowners. So how do you find great new home communities in the Rochester, NY area?
What Makes a Great Community in the Greater Rochester Region?
When we at Gerber chose the locations in which we'd develop communities, we looked for towns and areas that would enhance the lives of the people living there. We chose locations that show a promising future for growth and development.
A Few Examples of Towns We Build in:
Here are a few examples of local areas we reviewed before deciding that they were great candidates for developing communities.
Webster, NY, has a vibrant Chamber of Commerce that carefully invites businesses that they feel will enhance the quality of life of the overall community. In addition, they created Town Center shopping as a place for the community to come together. Visitors from as far away as Toronto, Canada stop by Town Center on the bus to shop while on their way to the Finger Lakes region. But the townsfolk of Webster didn't stop there. The town earned the rank of Sports Town USA, boasting more ball fields per capita than any town around. The addition of their Aquatic Center, Hockey Rink, Marching Band, and proximity to water recreation makes Webster a fun and inviting place to live.
Canandaigua, NY, and Victor, NY, both offer so much to new residents. They are both vibrant, growing communities that are close to businesses and shopping opportunities. That eliminates long commutes—a real plus for the quality of life. And when it's time for residents to relax, they have easy access to great areas such as Canandaigua Lake and the Wine Region not far from their doorsteps.
At Gerber Homes, we have been building new homes for more than 50 years. But we do more than just construction. We study trends and patterns so that we have a pretty good idea of where a new community will really blossom. Among other things, we look for communities where people can:
Have the easiest commute to work
Live in a home that is tailor-made to fit their needs
enjoy their leisure time with great access to outdoor activities and the amenities that make life comfortable and enjoyable
That's why we've built in great New York communities such as:
Webster
Ontario
Victor
Canandaigua
Sodus
Marion
East Bloomfield
Huron

Perinton
Farmington
Mendon
Walworth
Gorham
Fairhaven
Macedon
Rush
Click here for more information about these communities and for individual home sites. You can also click here to take a look at just some of the floor plans that are available in these communities—whether you're looking for a Colonial style home; a home with a first floor Master Bedroom; a patio home, or a home that features an in-law suite. Or, if you prefer, simply pick up the phone and call us at (888) 437-2373 with any questions you have.
Where you choose to live is important. And with Gerber, you have plenty of options regarding which community—and which kind of floor plan best fits your needs.