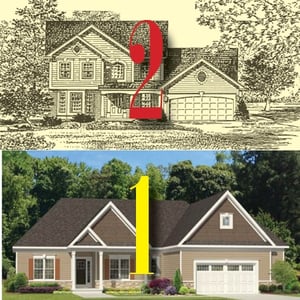 If you ask any kid if two is better than one, he or she will probably look at you as if you're out of your mind. Of course two is better than one! A lot of adults will give you that same look, too. Why settle for one when you can have two?
When it comes to building a custom home, however, that's a bit of a trick question. Is it better to have two levels or one? It really depends on your sense of style and on your needs. Let's compare two different floor plans to illustrate. Both are right around 2,100 square feet, so there's not a big difference in size. It's the location of the rooms (specifically the bedrooms) that makes the two plans so different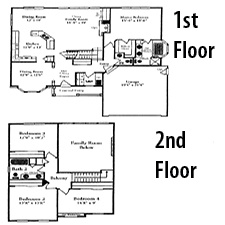 The Montclair is a 2178 square foot home with a main level master bedroom and 3 additional bedrooms on the second level. This entertaining-friendly home has an open kitchen that looks out into both a dining area and a family room (with optional fire place). The family room feels even more spacious because it's open to the second floor. And there's a separate dining room off the kitchen for more quiet or formal occasions. The Master Bedroom (with walk-in closet and optional whirlpool soaking tub) on the main level, and laundry facilities located on the same level means you can continue living in comfort on one level—even after your love for stairs fades.
The second floor offers three additional bedrooms and a full bathroom. If you have younger children, you can put them to bed on the upper level where they won't be bothered by the adults you're entertaining down below. Click here for a closer look at the Montclair floor plan.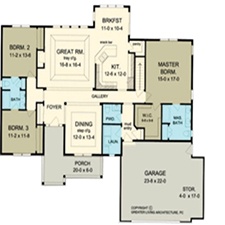 If, however, you like having everything on one level, The Carrinton is a 2088 square foot home that offers 3 bedrooms and 2.5 baths—with no stairs at all. It also has a kitchen that opens to a breakfast room and looks out into a Great Room with a tray ceiling. And once again you have the option of using the separate, formal dining room for more formal dining.
The Master bedroom features a large walk-in closet and it's own master bathroom. Two additional bedrooms located across the house on the same level share a bathroom. Even the laundry room is on the main level—and the garage offers an extra 4' x 17' of storage. If single-level living is what you want, click here to take a closer look at the Carrinton floor plan.
Is two better than one? That all depends on what you want. But isn't it nice to have choices?