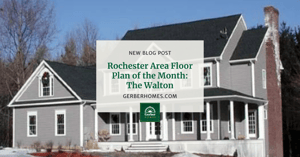 Many homeowners today find themselves sandwiched between their children and their parents. They're raising their own families, but find themselves with parents who aren't up to the task of living on their own and maintaining a home—but don't like the option of retirement community living.
The other side of that coin is that some parents are seeing older children graduate from college, but wait to purchase a home. Even though they may be working, these adult children are looking to their parents for help with housing.
If either of these situations sounds familiar, can you still build the home you want—while accommodating aging parents or grown children? That's where a floor plan like the Walton can be a great solution. You can take a closer look at the floor plan here, but here are a few reasons the Walton may work for you.
This 3,605 square foot home begins with a 3-car garage that allows for an extra vehicle. On the lower level parents or older children have their own "in-law" residence with bedroom, bathroom, and an open kitchen nook/ family room area. It's a self-contained residence but offers access to the rest of the home through the family kitchen (with eating nook off to the side) that opens up to a spacious family room. There are separate dining rooms and living rooms for family get-togethers.
The upstairs provides plenty of space for the immediate family with three bedrooms (including a master bedroom with bath) and a second bath. There's even a large bonus room on the second floor that can serve as a second family room—or whatever you need it to be.
One of the nice things about this layout is that it provides separate, private space while still allowing all family members to be together if they want.
If you like the idea of a separate "in-law" living space, but prefer single level living, you may want to take a look at the Wainscott floor plan. With 3,189 square feet, there's still plenty of room—without having to deal with stairs.