People looking for a home in the greater Rochester area often assume that they either have to choose an existing home that's on the market or build from the ground up. While both of those may be good options for some people, there is another option: Purchasing a model home. Could that be a good option for you? Let's take a look at some of the essentials for evaluating the suitability of a model home for your family's needs.
The Location

We all know about the importance of location when choosing a home. Where you choose to live is every bit as important as the kind of home you choose to live in. Choosing the location of your home can be a little tricky. Sure, you can get a feel for how far it is from important locations such as schools, shopping, and other family activities. But that's only part of the picture.
If you're purchasing an existing home, you can get a bit of a sense of the existing community. But what if you want a newer home? If you're building a brand new home, it's a little harder to do that because if the homes are being built it can be hard to visualize what the community will look like. With a model home, you'll often have the ability to see the community that is developing around it. We build homes in a variety of different communities in the greater Rochester area and we have model homes in numerous communities.
More Bang for Your Buck

I'll let you in on a little secret. When builders build a model home they like to show off just a little bit. OK, that's really not a big secret, but it's true; builders use model homes as showcases. That means we tend to put our best foot forward. A model home will often have upgraded floor plans. It's likely to have upgraded finishes for flooring, cabinets, and countertops. What that means is that you can get top-of-the-line materials and design for a great price. Builders also tend to use interior designers to decorate the interiors of model homes. And while you won't get to keep the furniture and pictures they use to stage the model, you'll still get the benefit of having had a professional's touch in color-coordinating things. You can also tap into a professional's design flair by taking pictures of the staged home and then adapting that interior look to your personal tastes.
Availability

What can you do when you have your heart set on a new home—but simply don't have the time to wait? That's where a model home can really shine. You may need to make a move quickly for a number of reasons:
You could be relocating to take a new job.
You could have an addition to your family on the way.
Maybe you have mature parents moving in with you that you weren't planning on.
Building a brand-new home takes time, and involves a lot of decisions up front and during the building process. With a model home, you don't have to make a lot of those choices. Plus, the home is already built. That means a faster move-in time frame. We regularly post listings of available model homes that you can either visit in person or visit online with a virtual tour.
Eliminate Guesswork

For some people, one of the toughest things about building a new home is visualizing how things are going to look. Some potential homeowners can look at floor plans and see the end results in their minds. For others, the floor plans are just lines and numbers on a piece of paper. It's hard for them to envision the end result. With a model home, you can actually walk through every room in the house. Not only do you then get to experience what each individual room looks and feels like—you also get a sense of the flow of the entire house. You can experience what it's like to move from the kitchen to the family room. You'll have a first-hand look at how each bedroom is set up. You'll know what it feels like to take linens from the bedrooms to the laundry.
Even if you decide that you still want to build, taking the time to tour a model home is a valuable experience. Model homes can help you take the guesswork out of choosing a home that's right for you and your family.
Take Advantage of Trends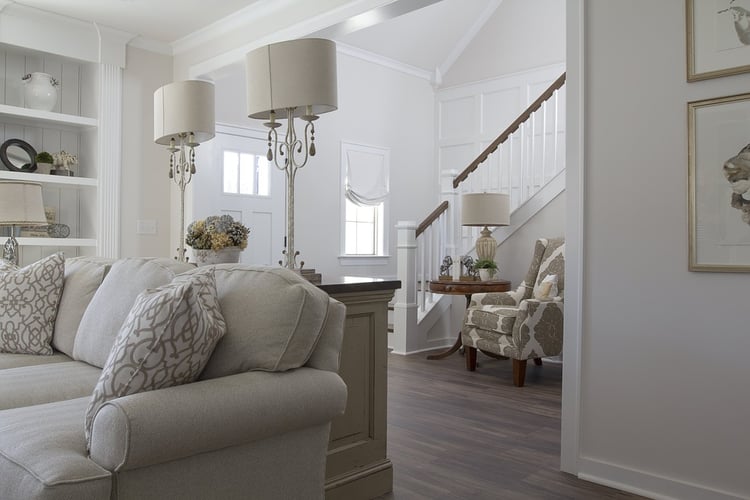 I mentioned above that builders often use model homes to showcase their craftsmanship. Another thing that model homes are good for is to introduce potential homebuyers to new homebuilding trends. While we try to keep prospective clients abreast of new trends that will make their homes more comfortable and convenient, there's nothing quite like seeing it for yourself. So if you buy a model home, you're probably buying something that's in step with the latest home design trends. That makes it more enjoyable for you—and it also means more value later on if you should decide to sell your home.
What If You're Not Sure That New Is Right For You?

Building a brand new home isn't the right answer for everyone. If you're trying to figure out if it's right for you, visiting a model can help answer some of those questions because you'll see things first-hand (without having to look past other peoples' "stuff" in an occupied home. If you'd like some additional insights, here's a helpful post that delves into the topic in a bit more detail.