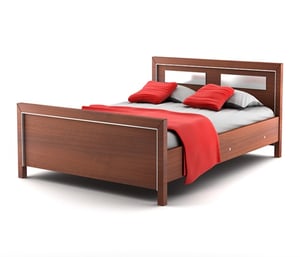 When you're planning a new home in the Rochester area, you want to get everything right. You want the right location, the right square footage and the right floor plan. Part of achieving the "right" floor plan is having important rooms positioned where you really want them.
Does it really matter where you locate your master bedroom? After all, it's not like the Design Police are going to pay you a visit and tell you that you've got it wrong.
But choosing where you put your master bedroomis important. And the "right" place to put it depends on your specific needs and desires. Here are a couple of scenarios to illustrate what I'm talking about.
In a Home with Younger Children
If you have younger children, you may want to choose a floor plan that puts your master bedroom close—or at least on the same level—as your children. Bad dreams and illnesses are pretty common occurrences with little ones. It's nice to be close to your kids—both for their sense of security and for your convenience. The Stillwater floor plan (one of our newer plans) puts parents on the same level as the kids. Even with ease of access to the kids, the parents can still enjoy the peace a separate master bathroom affords.
In a Home with Older Children
If you have older children, they may want to be a bit more independent and have their own "space" (and there will probably be times when you'll be happy to let them have it). The Danbury floor plan, for instance, puts parents on the same level of the house as the children—but still provides plenty of privacy. You can be close enough to keep an eye on things without intruding too much into the space your older children want.
In a Home Where You Plan to Stay in Maturity
What if you want to build a home where you can stay comfortably as you get older? That's when a home that offers a master bedroom on the main level can be very attractive. The Sinclair floor plan provides spacious single-level living. Everything you need is located on the main level, including the kitchen, family room, dining room, laundry and more. If you have children, their bedrooms are on the same level, too—but not right next to the master bedroom. It's also an ideal setup if you plan to have guests visit.
Those are just a few of the scenarios that might apply to you and your specific needs. We offer a wide variety of floor plans,ranging from two-bedroom plans of about 1,000 square feet to 3,600-square-foot plans that include in-law apartments. We invite you to check out these plans and find one that meets your particular needs.