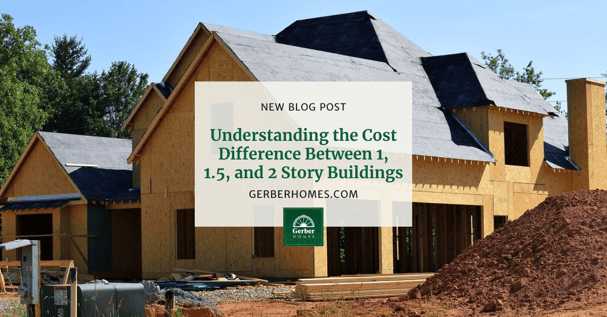 One choice you'll face when choosing a floor plan for your new Rochester-area home is how many stories your home will have. You can choose from a wide variety of different floor plans that include one-story, two-story, and one-and-a-half-story homes. In addition to impacting your lifestyle now and potentially in the future, the number of stories your house has can impact the cost of your home.
The fact of the matter is that it's not just the number of stories (of floor levels) that impact Rochester home costs. The overall size of the home, of course, plays a big role.
For instance, if you build a 2,000 square foot 2-story home and a 2,000 square foot single-story home, the one-level home will almost always be more expensive to construct. But being happy with your home is about more than just square footage—or a slight difference in cost. What you really want is a plan that meets your needs and makes you feel comfortable. The simple fact of the matter is that one-floorplan won't fit the needs of every individual.
These days, we find that many of our clients prefer open floor plans for their common rooms (kitchens, dining areas, family rooms). A ranch-style home in the range of 1,600 to 1,800 generally allows us to build a home that offers everything they want, such as a first-floor master bedroom, and easy access to everything. The cost for that is generally less than it would be for a similarly designed two-story home. That's because the two-story home will generally need to be a bit larger to include the features you want on the main level—and still have rooms upstairs.
So what about the cost for a one-and-a-half-story home? Prospective homeowners are frequently surprised to discover that this is generally the most expensive option. Part of the reason for that is that a one-and-a-half-story home usually has a good-sized first floor and a rather small amount of space in the upstairs. The dimensions of that small second floor prevent us from using standard trusses, and have to build flooring and other structural elements out of what we call "stick frame." Unfortunately, that's a more expensive process—and that makes the home cost more.
As I mentioned earlier, being happy with your home depends on more than square footage and cost. A much bigger factor is finding a floor plan that fits your needs (and your budget).