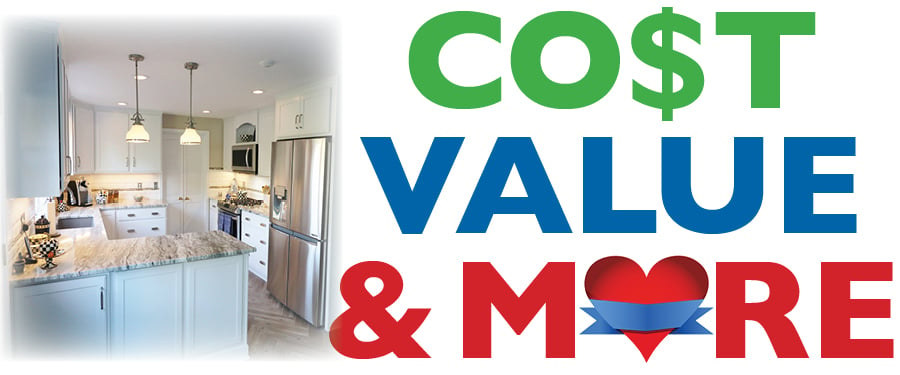 If you've decided it's time to remodel your Rochester-area home there are a couple of major questions you'll want to answer before you get too far into the process. The first question is so obvious that a lot of homeowners actually overlook it. What exactly do you want to accomplish with your remodeling project? Here's a post that digs into that topic a bit. The second big question you'll face is what the project is going to cost you (and what kind of value will it bring)? Let's take a closer look at cost versus value for your Rochester remodeling project.
Cost and Value Vary With the Project
Naturally, your specific costs will vary depending on the size and scope of your project. Let's take a look at some of the more popular remodeling projects homeowners take on to improve their homes. The figures we'll mention were compiled for the Remodeling 2019 Cost vs. Value Report (www.costvsvalue.com) for the Rochester, NY area.
A Midrange Minor Kitchen Remodel
Let's assume you want to remodel your kitchen and you're not looking to make huge changes. You're really after a minor upgrade to make the kitchen brighter, more welcoming, and more enjoyable to use. In such a case the report assumes you have a functional but dated 200-square-foot kitchen with 30 linear feet of cabinetry and countertops. You'll leave the cabinet boxes in place but replace fronts with new shaker-style wood panels and drawer fronts, and new hardware. This project calls for replacing your existing cooktop or oven range and slide-in refrigerator with new energy-efficient models. You'll replace your laminate countertops and install a mid-priced sink and faucet. To that, you'll add new resilient flooring. Then you'll finish by painting the walls, trim, and ceiling. On average, this type of project will cost $22,352 in the Rochester area. And if/when you sell your home you'll recoup 67.6% of what you spent.
A Midrange Major Kitchen Remodel
Maybe you want to do a little more to your kitchen when you remodel and you're looking at a major kitchen remodel. You're not looking for luxury, so it's still a midrange project—but there's more involved. Once again, the report assumes you have a functional but outmoded 200-square-foot kitchen. But instead of resurfacing the cabinets, you want to install 30 linear feet of semi-custom wood cabinets, including 3x5-foot Kitchen Island. You'll install new laminate countertops and standard double-tub stainless- steel sink with standard single-lever faucet. The project will include an energy- efficient range with vented range hood, a built-in microwave, a dishwasher, garbage disposal, and custom lighting. You'll also install new resilient flooring. Then you'll paint all the walls, trim, and ceiling. The average cost for this type of project around Rochester is $65,521. You'll end up recouping 52.5% of your investment.
An Upscale Major Kitchen Remodel
Sometimes, what you really want to accomplish in your kitchen requires a major remodeling of the kitchen and the addition of upscale materials. In this kind of situation, the report assumes you're starting with an outmoded 200-square-foot kitchen. This time, however, you'd replace the cabinets with 30 linear feet of top-of-the-line custom white cabinets that include built-in sliding shelves and other interior accessories. Instead of laminate countertops, you might opt for stone countertops with an imported ceramic- or glass-tile backsplash. Instead of a slide-in refrigerator, you'd select a built-in refrigerator. For cooking, you'd opt for a commercial-grade cooktop and vent hood, a wall oven, and a built-in microwave unit. You'd also install a high-end under-mount sink with designer faucets and a water filtration system. The plan calls for adding new general and task lighting, including low-voltage under-cabinet lights. For flooring, you'd install tile or similar flooring that looks like wood. This kind of project averages $130,513 in the Rochester area. Your return on this investment would average 51.0%.
What About Putting On an Addition?
There may be times when you simply can't make the improvements you want within the parameters of your existing space. If that's the case, you're looking at an addition to your home. Master Bathrooms are one of the more popular additions we do in Rochester. Let's look at a couple of different approaches.
A Midrange Bathroom Addition
For a midrange bathroom addition, the Remodeling 2019 Cost vs. Value Report assumes you'll add a 6x8-foot bathroom over crawlspace with poured concrete walls. It also assumes installing a cultured-stone vanity top with molded sink and standard chrome faucets. For this project, the report uses a 30x60-inch white fiberglass tub/shower with ceramic tile surround, and a single-lever temperature and pressure-balanced faucet. The commode would be a white low-profile toilet. The project includes general and spot lighting, electrical wiring to code, a mirrored medicine cabinet, plus a linen storage closet or cabinet. It also includes the installation of a ceramic tile floor, as well as painting of all trim. The average cost for this project is $47,397 and it generates a 46.6% return on investment.
An Upscale Bathroom Addition
More luxurious, comfortable spa-like Master Bathrooms are also very popular. For this kind of project, the report assumes adding a new 100-square-foot master bath to an existing master bedroom over a crawlspace. This will include a 42x42-inch neo-angle shower with ceramic tile walls. That comes with an accent strip, recessed shower caddy, body-spray fixtures, and a frameless glass enclosure. It also assumes installing a freestanding soaker tub with high-end faucets, a stone countertop with two sinks, and two mirrored medicine cabinets with lighting. For this project, you'd also include a compartmentalized commode area with one-piece toilet and a humidistat-controlled exhaust fan. Flooring consists of larger matching ceramic tiles—laid on diagonal with ceramic tile base molding. A nice addition is electric in-floor heating. General and spot lighting and a waterproof shower fixture are also included. Your bathroom cabinetry would have a custom drawer base and wall cabinets. The plan assumes extending HVAC to the new room. The average cost for this type of project in Rochester is $87,740 and it should provide a 45.7% return on investment.
Your Exact Costs Will Vary
The figures provided here make a certain number of assumptions. Your exact costs will depend on the size (square footage) of the project, the complexity of what you want to do, and on the specific materials you choose for finishes. Still, these figures provide a starting point for thinking through your budget. And speaking of budgets: Here's a post that offers help for setting a realistic budget for your Rochester home—whether you're building or remodeling.
There Is More To Cost and Value Than Just Financial ROI
Even though it's helpful to look at average costs and projected return on investment for potential remodeling projects, it's important to keep in mind that there is more to evaluating the value of your remodeling project that just the financial returns. The real reason to remodel has more to do with creating a home you love—one that adds comfort and convenience—and one that allows you to enjoy your particular lifestyle. Here's a look at some of those "added values" that may be hard to measure in terms of dollars and cents.
© 2019 Hanley Wood Media Inc. Complete data from the Remodeling 2019 Cost vs. Value Report can be downloaded free at www.costvsvalue.com.