When you're considering an upgrade to your Rochester-area home, a small change can sometimes give you all you need. There are times, however, when a small change just isn't enough. And while a home renovation can help you get the most out of the available space you have, sometimes you simply need more space. That's when a home addition actually makes the most sense. What can you expect to spend to make that kind of improvement? Here's a look at 2019 Costs for home additions in Rochester.
Let's look at some of the costs for a few of the more common home additions as compiled in the Remodeling 2019 Cost vs. Value Report (www.costvsvalue.com). First, we'll provide a brief description of what's included in the project and then we'll follow with the cost you can expect to pay in the Rochester area.
Midrange Bathroom Addition
A midrange bathroom addition assumes adding a 6x8-foot bathroom over a crawlspace with poured concrete walls. Materials used would be a cultured-stone vanity top with molded sink; standard chrome faucets; a 30x60-inch white fiberglass tub/shower with ceramic tile surround; a single-lever temperature and pressure-balanced faucet; a white low-profile toilet; general and spotlighting; electrical wiring to code; a mirrored medicine cabinet; a linen storage closet or cabinet; painted trim; and a ceramic tile floor.
Job Cost: $25,000 with an expected recouped of approximately 46% of your cost when you sell.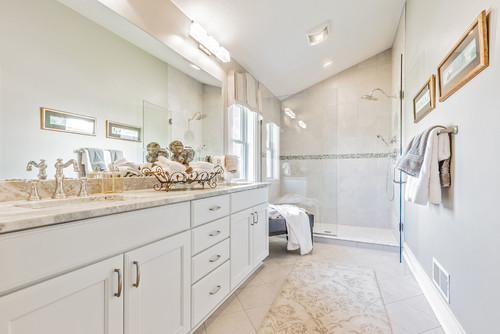 Upscale Bathroom Addition
For an upscale bathroom addition, the assumptions would be adding a new 100-square-foot master bath to an existing master bedroom over a crawlspace. It would also include a 42x42-inch neo-angle shower with ceramic tile walls and an accent strip; a recessed shower caddy; body-spray fixtures; and a frameless glass enclosure. It would include installation of a freestanding soaker tub with high-end faucets; a stone countertop with two sinks; two mirrored medicine cabinets with lighting; a compartmentalized commode area with one-piece toilet; and a humidistat-controlled exhaust fan. It assumes the use of larger matching ceramic tiles on the floor, laid on diagonal with ceramic tile base molding. General and spotlighting plus waterproof shower fixture would also be included. Cabinetry would include a custom drawer base and wall cabinets. The project would also assume extending HVAC access and installation of electric in-floor heating.
Job Cost: $38,000 with an expected recouped of approximately 46% of your cost when you sell.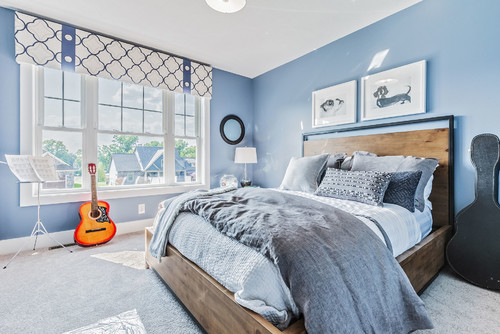 Midrange Master Suite Addition
A midrange Master Suite addition would call for adding a 24x16-foot master bedroom suite over a crawlspace. Features would include a walk-in closet/dressing area; a freestanding soaker tub; a separate 3x4-foot ceramic tile shower; and double-bowl vanity with a solid-surface countertop. The floor of the bedroom would be carpeted. Tile would be installed in the bath. All walls, ceiling, and trim would be painted. Installation of general and spot lighting, and an exhaust fam are also included.
Job Cost: $90,000 with an expected recouped of approximately 58% of your cost when you sell.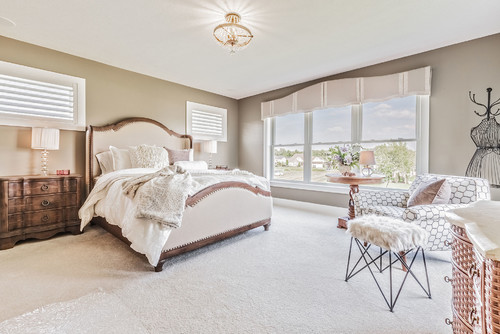 Upscale Master Suite Addition
The assumptions for an upscale Master Suite addition include adding a 32x20-foot Master Bedroom Suite over a crawlspace. That would include a spacious sleeping area with lounging/sitting area adjacent to a large master bath. That space would include custom bookcases and built-in storage with millwork details; a high-end gas fireplace with stone hearth and custom mantle; and walk-in closet/dressing area with natural light, mirrors, and linen storage. It assumes the installation of French doors as well. The bathroom will include a walk-in shower with a dual-shower system; stone walls and floor; and a custom frameless glass enclosure. A freestanding soaker tub will also be installed. The bathroom also Includes two sinks in separate custom vanities with stone countertops and large mirrors. The builder will create a partitioned area for a luxury one-piece toilet. Outside the bath expect the installation of a 5-foot-long hospitality center with bar sink; under-counter refrigerator; custom cabinetry; stone countertop; and microwave. The project includes soundproofing; in-floor heating; custom wall finishes and hardware; general and spotlighting; and high-end lighting controls.
Job Cost: $150,000 with an expected recouped of approximately 44% of your cost when you sell.
Photo by Willowood Homes
In-Law Addition
If you're looking to create a space for your aging loved ones, an in-law addition is a great option. We can create an 800 sq. ft addition complete with 1 bedroom, 1 bathroom, dedicated laundry, a kitchenette, a seperate entrance, and a 3rd garage bay.
Job Cost: $190,000 with an expected recouped of approximately 52% of your cost when you sell.
Composite Deck Addition/Wood Deck Addition
This project includes the building of a 16x20-foot deck using pressure-treated joists supported by 4x4-inch posts anchored to concrete piers. Then composite deck material will be installed in a simple linear pattern. That will include a built-in bench and a planter of the same decking material. The deck includes stairs and assumes three steps to grade. The deck will also have a complete railing using a matching system made of the same composite as the decking material. The specifications/assumptions for a wood deck are identical except that the finish material would be wood instead of composite material.
Job Cost (Composite): $20,000 with an expected recouped of approximately 54% of your cost when you sell.
Job Cost (Wood): $15,000 with an expected recouped of approximately 63% of your cost when you sell.
Keep in mind that the costs here are representative figures. The exact size of the project, the complexity, and the materials used can all impact the final cost. But these figures at least provide a benchmark to help you begin planning.
What About Your Kitchen?
Your kitchen may well be the most-used room in your home. Perhaps the most common request Rochester homeowners have is to expand the size of their kitchen to better accommodate their needs for family use—and for entertaining. Sometimes that can be accomplished by redesigning existing space. In other cases, an addition may be required to deliver the space required. Wil the 2019 Cost vs Value Report doesn't include figures for this specific kind of addition, we can help you calculate your costs. And if you're looking for an idea, you can download our free Creating the Ideal Kitchen ebook.
If your family is growing, building an addition is a great solution for providing much needed living space in your home without the hassle of moving. You can learn more about our process by scheduling a free home remodeling consultation now!