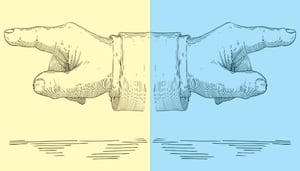 Your relationship with your builder is an extremely important part of the homebuilding process. That doesn't mean you have to invite your builder to dinner, or go to his kid's school play. But it does mean you have to be able to work together to resolve issues.
That's particularly true when building a custom home, because you're more likely to run into situations that require a unique solution. Your builder may come up with a solution that's different from the one you envisioned. How do you handle a situation where you and your builder disagree?
Communicate Your Expectations Clearly: Make sure you and your builder are on the same page and that he or she clearly understands what you're after. "More space in the kitchen" is too vague. Make sure your builder understands how you want to use that space and then let him or her come up with the way to get it done. It might be different (and even better!) than what you envisioned, but does it achieve the objective?
Ask Respectful Questions: Your builder may come up with a solution that's not your first choice. Rather than accuse him or her of ignoring your wishes, ask for an explanation. There may be a structural basis for making a certain decision. Or the builder may be constrained by building codes. It's ok to ask, but it's important to respect your builder's knowledge and expertise (just like it's important for the builder to respect your wishes and ideas).
Look for Win-Win Solutions: Again, this goes back to achieving your objectives. Work together to find solutions that work for both of you. You shouldn't have to settle for less than you agreed upon. But remember that your goal (and your builder's) is to build the best possible home at the agreed-upon price. It's not about "being right" in a discussion.
Getting along with your builder isn't about agreeing on every little detail. But when you build a custom home, you will be faced with decisions in the process. That's why it's so important that you choose the right builder—one you're comfortable with—from the beginning. Here's a post that can help you determine whether the builder you're considering is right for you.