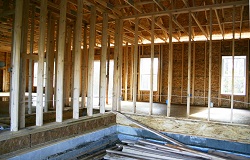 So, what exactly is an Energy Star new home?
In order for a new home to meet Energy Star qualifications, it must be built to certain specifications, and have an inspector look at the home throughout the building process.
Gerber Homes has felt for years that everyone deserves a Green Home. The new Green home they are building in Canandaigua NY isn't different than any of their other homes. All Gerber Homes meet the Energy Star checklist.
For instance, Indoor Air Quality. Most homes only have valves that allow furnace gases to be released.
Traditionally, a furnace picks up air around it, and spreads this air throughout the home. In theory, this sounds fine, but in reality, the family is breathing recycled air. (similar to what happens on an airplane.)
This would be great if we didn't pollute our homes with toxic gases. Everything from old paint cans, insecticides (often placed next to the furnace), gasses from carpets, paint, furniture, etc. invade our homes daily. These gases are recycled again and again, and breathed by your family.
Gerber Homes believes there is a better way. Each of their new homes has a Fresh Air Intake Valve. This means fresh air from the outside is continually being brought into the home, while toxic, old air, is pushed out.
The result is better breathing for you and your family. This is especially important in a time when respiratory illnesses such as asthma are on the rise for children.
Stay tuned for future posts as our Green Home in Canandaigua NY is built. Completion should be sometime in mid-December, and you will be invited to the grand opening.
If you have any questions about Building Green or updating your existing home to Energy Star, give Gerber Homes and Additions a call .888.GERBER3.