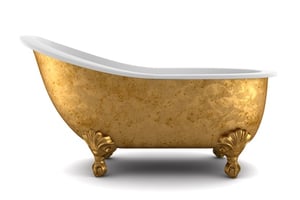 To tub or not to tub? When it comes to bathroom design in Rochester-area homes that seems to be a big question. Whether you're planning to build a new home in the area or remodel your existing home, you may be wondering: Should you keep your bathtub?
There's no question that many (but not all) homeowners have moved away from the larger spa-style tubs that were popular a few years back. And in the meantime, larger more luxurious, walk-in showers have gotten a lot of attention. In addition to using less water (and energy to heat that water), spacious walk-in showers are more comfortable and are a great feature if you plan to live in your home as you mature (no stepping up and in, so there's less chance of a fall).
If you have smaller children who aren't quite ready for a shower experience, you may want to keep a conventional tub in your second bathroom. For some mom's tub-time for toddlers is a welcome break as their kids are entertained while they've getting clean. And in addition to bathing kids, many homeowners use their tubs to wash out larger items that won't go in the washing machine.
Some real estate agents argue that not having a tub can hinder resale by cutting out the segment of the population who still wants a tub. Others maintain that it's not that big of a deal. It's interesting that when Houzz.com checked on this with their subscribers they reported that, "the majority of people who have voted so far in our poll on whether their single-bathroom home has a tub have said yes, it does indeed."
It really comes down to what works best for you and your lifestyle. Frankly, some people simply prefer a tub. Some love the look of an elegant "statement" tub that makes their bathroom feel special and inviting.
Of course, choosing whether or not to include a tub is just one consideration when it comes to creating the bathroom that's right for you. Here's a helpful post that talks about four things to think about before creating your ideal bathroom. To tub or not to tub? It's your choice!