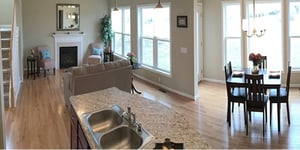 Kitchens have come a long way in the last few years, and they're continuing to evolve. Today's floor plans no longer relegate the kitchen to a remote space of its own. Current home designs (whether you're building a new custom home or remodeling your existing Rochester-area home) incorporate the kitchen into the whole home. After all, that's the way we live. We tend to gravitate to the kitchen, whether we're eating, entertaining or doing homework.
Kitchens with open designs have been around for a while, but recently homeowners and designers are rethinking how kitchens can best fulfill their role as the heart of the home. Here are a couple of trends we've been noticing for this year.
Integration
When choosing cabinets, countertops, flooring, backsplashes and even appliances, you'll want to keep in mind that your family and guests may be sitting in the dining area or the family room, but they have a pretty clear view of the kitchen. Make sure there's not a jarring difference of styles in your kitchen finishes.
Storage
This carries on the theme of having a kitchen that's visible from other rooms in the home. Nobody wants to stare at a cluttered kitchen. That's why an increasing number of kitchen designs are incorporating storage that allows you to keep more "stuff" (including some appliances) off the countertops.
Lighting
There's nothing more frustrating than not having enough light to perform everyday food preparation tasks in the kitchen. That's why today's kitchens often feature specific task lighting that lets you focus adequate light where you want it. But if you entertain off the kitchen, you don't want harsh light in your guests' eyes, so modern kitchens often incorporate ambient lighting as well. Use your task lighting when you're doing prep and then switch to softer, more relaxing light in your kitchen to set the tone for entertaining.
Convenience
It's important to remember that your kitchen isn't just for entertaining. Be sure the layout reflects the way you use your kitchen. That means designing the space to fit your workflow and the type of cooking you do. Kitchens today can be both beautiful and functional!
If you're looking for additional ideas on creating a kitchen you'll love, we invite you to download our free Creating the Ideal Kitchen eBook, which can help you design a kitchen to fit your personal style.