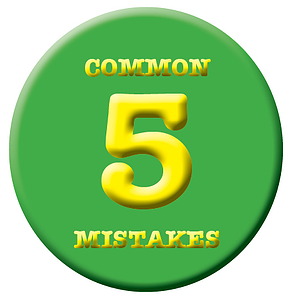 Let's face it. Building a new home is a big deal. It's not something anyone takes lightly. And if you're honest, there are some things about it that can make you a little bit nervous. There are some things you can do, however, that can take some of the tension out of what can be an exciting, fun, and rewarding undertaking. Let's look at five common mistakes that crop up in the homebuilding process—and talk about simple steps you can take to avoid them.
1. Poor Budgetary Planning. Sometimes our plans can be bigger than our budgets. It's important to have an accurate understanding of what you can really afford, and to stay within that budget. It doesn't do you any good to build a palace if you can't finish it or can't afford to live in it when it's done. If what you can afford is a $275,000 home, don't plan to build a $350,000 home and hope that the money will somehow be there. Do your research and see what you can really get for $275,000. By the way, the flip side of this is also true. If what you really want is a $350,000 home (and you can afford it), don't try to build it for $275,000. You'll only frustrate yourself and your builder!
2. Choosing the Wrong Plan. This probably seems pretty obvious, but if you start out with a plan that's not right for your lifestyle you'll end up with a home you're not happy with. So before you choose a plan because of its style, consider how you live. Remember, you're not just going to sit around and look at your home—you're going to live there. So take time to look at designs and plans, but always ask yourself what it would be like to live with the kind of floor plan you're looking at. Need some ideas?
3. Choosing the Wrong Builder. This may be the most important choice you make when it comes to building your home. You need someone with the experience and expertise to turn the plans you have into reality. But you also need someone you can work with. You'll be spending a lot of time with your builder, and you'll have to work through decisions and changes. That's why it's important to find someone you can trust. You'll want to get a number of good references—and you'll want to check on them.
4. Not Being Available. It's true that your builder won't need your help in the physical building of your home (and he probably won't be thrilled if you pick up a hammer and decide to start banging). But you still have an important job. Make sure you're available to talk to your builder on a regular basis. If you see something that doesn't seem right, bring it up as soon as possible. The earlier you catch something that's not the way you want it, the easier it is to fix. Don't build up a list of things you're unhappy about—get them out in the open as early as possible. Don't let tension build up and don't assume your builder knows if you're unhappy about something. He's there to build your home—but you have to keep the lines of communication open. If there's something that doesn't make sense to you, ask your builder. He'll be happy to explain.
5. Making Major Changes. No building project goes exactly as planned. And there may be some small changes you can ask your builder to make. He may even suggest some small changes to you that will make your home even better. But making major changes to the plan will delay construction and cost you a significant amount of money. Some changes are worth it. If you have a change, make sure you and your builder agree on it—and that he gives you a change order so that you know exactly how the change you're requesting will affect the schedule and the cost of your home.
The more you can do to avoid these five mistakes, the more smoothly your homebuilding project will run. Your chances of finishing on schedule and within budget will improve dramatically. And both you and your builder will be much happier in the end!