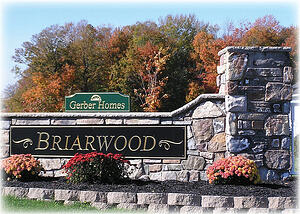 You may have heard the old joke: "Is life worth living? That depends on the liver!" We'd say it also depends on where you chose to live. Our Briarwood Estates development in Webster is a classic example of that.
The motto of the Town of Webster is, "Where life is worth living"—and it's easy to see why. For one thing, it's a beautiful place that puts a high value on its pristine environment. And for the community, that value is more than just words. They recently purchased 1,023 acres of land to be used for hiking trails and other recreational activities for current and future generations. That's in addition to numerous existing parks—and great views of Lake Ontario.
There's more to the town than just outstanding vistas. Webster is equally committed to stimulating the intellect. The Webster public library (visited by more than 350,000 people each year) is a model for other public libraries in Monroe County. The library even features a unique children's room situated in a park-like setting.
Webster is also home to fine schools, including Webster Thomas High School, Willink Middle School, and Schlegel Road Elementary School.
There are also plenty of community activities in this comfortably sized town of roughly 40,000 residents. The Webster Parks and Recreation Department offers plenty of programs and activities for town residents of all ages.
Even though Webster is an idyllic retreat, it's still within easy reach of the outside world. It's only a 15-25 minute drive down State Route 104 to downtown Rochester or to the Greater Rochester International Airport.
Of course, a great location demands a great home. We invite you to check out our Chelsea model. This gorgeous 1707 square foot, 3-bedroom, 2-bath home, has an open floor plan and includes an oversized garage plus a full basement (complete with egress window and slab plumbing for a future bath). Take a closer look at the floor plan here.
Or, if you'd like to take a look around the community, please visit our Webster photo gallery for a glimpse of this captivating community.
Life is definitely worth living if you find the right location—and the right home for your family. For more information about living opportunities in Webster shoot Julie Wambold a note at julie@gerberhomes.com.
And start living that life you've always longed for!