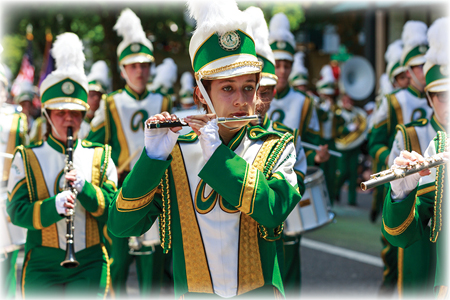 I love a parade, the tramping of feet,
I love every beat I hear of a drum.
I love a parade, when I hear a band
I just want to stand and cheer as they come.
The song "I Love a Parade" was written for a musical film (Manhattan Parade) in 1931, but for a lot of us, the sentiment remains unchanged today. A parade is a great spectacle—a chance to see the kinds of things one doesn't see everyday in a celebratory atmosphere.
It's that same kind of atmosphere and collection of exciting elements that makes a Parade of Homes special today. Sure, it's an opportunity for builders and designers to showcase their talents and parade some of their best work in front of the public. That's why we love a parade of homes.
We've discovered, however, that potential homebuyers love a parade as well. It's a chance to survey a number of different styles and approaches from a variety of different builders at one time in relatively close proximity. Homeowners can compare and make notes—not just from pictures or descriptions—but from up-close-and-personal viewing of actual homes.
That's why we're so pleased to be participating in this month's Parade of Homes in the Rochester area. We invite you to come out and see our offerings that include our homes in:
Located just three miles east of Fairport, this home features:
Dedicated open space
Gorgeous Hardwoods
2395 sq ft, 4 bed, 3 bath
Fully Landscaped, New Patio
Gourmet Kitchen and Pantry
Energy Efficient Heat Pump
Central Air Conditioning
Luxurious Steam Shower
Gas Fireplace Granite Surround
This home will give you a great feel for the quality you can expect from Gerber, whether your build to this plan or one of your own—on one of our lots or one of your own where you'll enjoy:
Webster Schools
Webster Forever Wild Space
Pedestrian Trail & Ponds
Close proximity to Webster Shopping
Variety of Home Sites
Come on out and enjoy the parade!