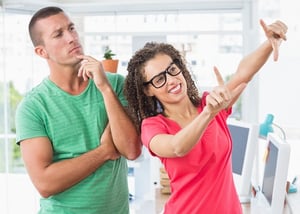 Some people are really good at visualizing what something will look like when it's complete. They can see how all the parts come together to make the whole. People like that can often look at a floor plan for a home and see more than just lines and numbers. They can see what the finished house will look like—and how each room will work for their family.
If you're one of those people, you can click here to check out one of the many floor plans for homes we build here in the Rochester area. There are Colonial, Ranch, and Cape style homes. You can also look at plans for patio homes and homes with 1st floor master suites. And chances are, you'll have a good idea of what will fit your tastes and lifestyle.
Some people, however, need a bit more of a hands-on approach. For them, seeing is believing (and understanding). They want to physically see how the rooms of a home flow together. They want to see how the finished kitchen looks. They want to feel what it's like to walk from the garage into the house.
If you're that kind of person and you're looking for a new home in the Rochester area we have good news. We have a number of models in Canandaigua, Ontario, Perinton, and Webster that will let you have that kind of "up-close-and-personal" experience.
Canandaigua: The Old Brookside community in Canandaigua is located off of Buffalo Street and is comprised of rolling hills, mature trees, green space, kiddies' park, and sunny open spaces. The community has community ponds stocked with fish, a pedestrian trail, and maintained open spaces. It has the convenience of close proximity to all of Canandaigua's shopping and dining amenities. You can take a look inside this 1,571 square foot, 3-bedroom, 2-bath home to see if it's right for your family. And if you'd like to preview it before you drive out for a look, you can take a virtual tour!
Ontario: This beautiful Cape home is in our beautiful Summer Lake Development, where you can feel spectacular lake breezes and enjoy lake views from most home sites. This 2,044 square foot 3-bedroom, 2-bath home is only 1.5 miles out of Webster. Check it out at7704 Misty Way or take a look at the floor plan here.
Perinton: If you're looking for one-level living, you'll want to check out this spacious 1,624 square foot 3-bedroom, 2-bath home with lots of features at 142 Tea Olive Lane,
Perinton, NY 14450. Again, you can check out the home online before driving out.
Even if you're great at visualizing, you may want to check out these great models. If you don't have the time to wait for the construction of a new home, one of these models could be just what you're looking for. Moving in can be quick in easy—and that's something anybody can visualize!