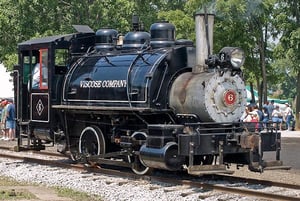 Kids may be growing up in an age where a ride in the car is almost like sitting in their living room. They can listen to music, watch videos, and even surf the Internet from the back seat. And it may not be long before our cars are driving themselves. They might be astonished to know that it wasn't always that way. And if you live in Rush or Rush/Henrietta, you've got the proof right in your own backyard!
Here are a couple of ways you can show your kids (and remind yourself) how things used to be.
Enjoy a Sunday Ride That's All About the Rides. The New York Museum of Transportation is open all year on Sundays only, from 11 a.m. to 5 p.m. and provides a fascinating look at the history of transportation from days gone by. Check out antique trolley cars, a steam locomotive, a fire truck, an ambulance, an operating model railroad, many other vehicles along with numerous exhibits of photographs and artifacts that bring local transportation history to life. You can even ride on some of the vehicles that are no longer in operation anywhere else—including the only trolley ride in New York State! Click here for more information.
All Aboard!The Rochester & Genesee Valley Railroad Museum is home to the largest collection of historic trains in New York State. You can visit the restored 1909 Erie Railroad train station located off Route 251 in Rush. Climb aboard authentic freight train cabooses for a one-and-a-half mile round-trip ride through the museum grounds. It's a fantastic way to explore the region's rich railroad heritage. Plus, you'll have the opportunity to take a peek behind the scenes inside the restoration shop to see how these vehicles of yesterday have been brought back to life. If you work up an appetite "working on the railroad" it's just two miles to the Village of Scottsville where you'll have your choice of great restaurants, including Scottsville Diner, Salvatore's Saloon, Dirty Dave's Bar & Grill, Mark's Pizzeria, and more. Click here for more information and a list of events.
Get Back to Nature: Of course, there's much more to the region than historic transportation! The area around Rush is naturally beautiful and Mendon Ponds Park is a great place to enjoy that natural beauty. The park encompasses 2,500 acres of woodlands, ponds, wetlands and glacially created landforms. It's ideally suited to outdoor activities including Biking; Birdwatching; Boating (non-motorized); Fishing; Geo-caching; Hiking/Running; Horseback Riding; and Kayaking/Canoeing. This unique park also features six Lodges and seven Shelters that are available for rental. Click here for more information about Mendon Ponds Park.
Whether it's history or nature that interests you, if you're looking for something out of the ordinary around Rush, you really don't have far to look!
Photo courtesy of The Rochester &Genessee Valley Railroad Museum