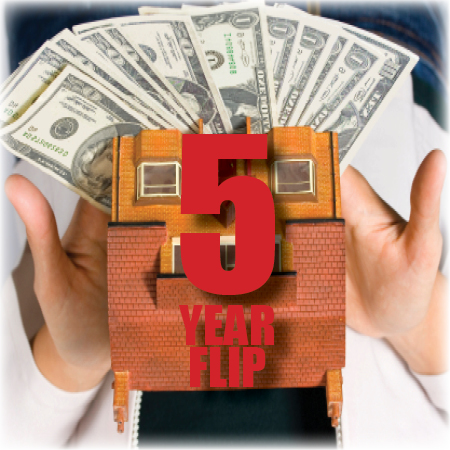 If you bring up the topic of building a new home, you're likely to hear the phrase: "Your single largest personal investment." It's still something you'll hear (and think about) if you're considering building in the Rochester area. But just what kind of investment are you considering? Are you planning to build your dream home, or are you looking to flip your home in five years or so in hopes of making a profit?
Conventional wisdom held that you needed to stay in your home for a minimum of five years in order to build up a little equity and actually be able to pull some money out of a home. Of course, some of that wisdom was based on the fact that housing prices continued their relentless upward climb.
We all know what happened to housing prices around 2008. And although prices are once again climbing, most homeowners are a little more guarded in the assumptions that prices will climb without ever falling again. "Flipping" a house after five years is not the slam-dunk it once seemed to be.
Building your dream home is still an investment. But in addition to (hopefully) paying a financial dividend, it also pays a different kind of dividend.
The real reason most homeowners build a custom home is that they want to build a home that fits their specific lifestyle and their particular tastes. If you choose to build a custom home, the choices you make go well beyond the color schemes for different rooms in your home, or what appliances you want in the kitchen. You're designing a home around the way your family lives.
Custom homeowners see their homes as more than just a financial investment. They are an investment in comfort and security. They are an investment in a sense of well being. Ultimately, a custom home is an investment in their family—and it can be a little difficult to put an exact price tag on what that's worth.
What about return on investment? If you build a custom home, will you get back every dollar you put into it? Maybe yes and maybe no, but what is it worth to you to live in the kind of comfort and security you choose—for as long as you are in your home? And when it's finally time to sell, the attention to quality and detail that go into creating your dream house will help your home retain its value.
It all comes down to what's important to you. If what you're really interested in is a fast, five-year flip, maybe the quality and craftsmanship of a custom home isn't that important. But if you're looking to invest in a comfortable home that fits your family like a glove for as long as you live in it—a custom home may be the right investment for you.
If you're interested in investing in a home you'll love to be in for years, check out our featured floor plan here.