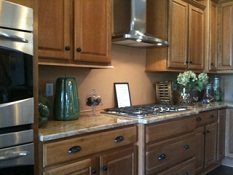 In my mind, Kitchens and Baths sell a house. The Springwater, the Homearama 2010 Rochester NY model by Gerber Homes has it all wrapped up.
Show me the shower. Show me the kitchen countertop. But I have to say, this new home builder in Rochester has build every room with pride. Wait until you see the bedrooms! Hurry over to Homearama Rochester NY soon, the show ends Sunday.
So, I walk into this beautiful kitchen. It's open and ready for entertaining. Gone are the days of being stuck in the kitchen, while everyone else has fun in the living room. With the Gerber Homes' model, it's almost like the kitchen is part of the living room.
The granite countertops are incredible. Lots of space to prepare and serve party munchies, and school lunches. There's room for guests to sip wine, straight from the wine rack or cooling frig. Or help the kids with homework while you make a salad.
I love the faucet. It's high and stylish. After the party, simply pull the sprayer out of the faucet, and clean up. I have one of the old sprayers beside my faucet, just begging to collect stuff around the base. Yuck.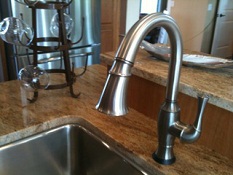 You're not going to believe the amount of cabinet space! And the dining area is just a step away. Or if you prefer, take dinner on that beautiful care-free deck, overlooking the pond.
Now I know what you're thinking. I don't have a pond. My house doesn't have granite countertops or lots of cabinet space. Nice for the new owners of Gerber Homes' Homearama house, but what about me?
Never fear. If
Gerber Homes can build this at Homearama,
they can build it at your house too.
Gerber Homes
not only builds new homes, they also do
additions and remodeling.
Everything from small changes, to entire house makeovers.
Click to see some of their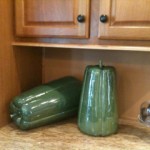 work. Or call them for questions.
Don't forget the furniture and decoration sale on Monday, Aug 23, from 4-7 pm. Barbara Jean's Furniture and Gerber Homes will be there. Everything is cash and carry, but they will deliver within 50 miles.
So get to the sale on Monday early, there are so many beautiful items. Plus, it will give you one more peek inside Gerber Homes' Homearama model, before the keys are turned over to the new owners. If you have any questions, simply give them a call!