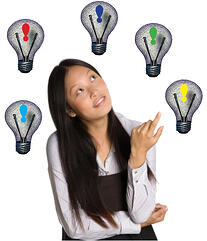 Planning the remodeling of your Rochester area home can be a lot of fun. At the beginning of the process the sky is the limit. And once your mind is tuned in to the remodeling process, it seems like there are new ideas everywhere you turn.
There are online decorating sites that are chock full of new ideas. Newspaper and magazine ads catch your eye in ways they never used to. And even when you watch television, you find yourself looking at how some TV family has designed their kitchen or family room. Ideas seem to come from everywhere.
That's part of what makes the remodeling process fun! But it can also be overwhelming. That's something we've observed as we've met and talked with clients during the past 30+ years we've been building and remodeling homes in the Rochester area. It's hard to remember all the good ideas and then sort out the ones that really fit your plan.
How can you remember all those cool ideas—and how can you organize them so that you can access them later? Here's a tip. Create a Remodeling Idea Notebook. If you're more of an "analog" person, it can be an actual notebook where you collect ideas and images. If you're more "digital," you may want to create a folder on your computer, tablet or smart phone. At this stage, you don't have to eliminate any ideas. Anything that strikes you as interesting or useful should go into your file.
However, you'll want to organize your ideas into three categories:
Must Have;
Nice to Have;
If Money Were No Object.
Then when it's time to create your remodeling budget, you'll have an easier time deciding which ideas you can act on and which you'll need to let go.
Here's one reason why you don't want to let go of your ideas too early. You can share your ideas with your designer or builder. We've been around the remodeling block a time or two. If you have an idea that you think is too expensive or impractical, we may have a more cost-effective way of making it happen.
If you'd like to talk to someone about your remodeling ideas, call or contact any one of our professional staff. We'll be happy to help you turn your ideas into reality!