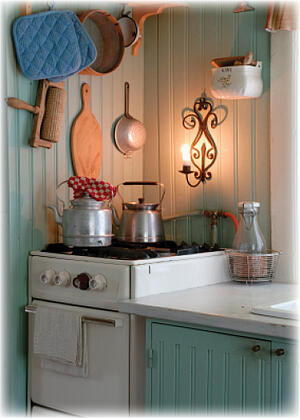 The kitchen is arguably the most remodeled room in the home. It's easy to understand why. So much happens in the kitchen. Years ago it may have been Mom's domain—a place devoted to preparing food and little else. Today it's the "heart of the home." It's a social center for family and friends. Families eat there. Kids do homework there. And if you happen to have a party, just try to keep people out of the kitchen!
As a result, homeowners expect a lot from their kitchens these days. And that's why so many people remodel a room that's so critical for the whole home. But how do you know if it's time to remodel your kitchen?
The impetus for kitchen remodeling can vary quite a bit, but essentially it boils down to two key things: form and function. Homeowners either don't like the way their kitchen looks (and feels), or they don't like the way the workspace is set up. It's just not conducive to their lifestyle.
FORM: Kitchens in the Rochester area (like everywhere else) are subject to changing trends. Trends come and go. Some have more staying power than others, but sometimes it doesn't take much for a kitchen to feel dated. And what seemed so trendy a few years ago can make the most important room in your home feel like an exercise in time travel. Here are just a few examples:
Hanging pots and pans: This was a big trend not very long ago. It was a nod to gourmet cooking and showcased that the kitchen was all about that. But many homeowners value open space more than hanging pots and utensils they never actually use.
Appliance colors: The "hot" colors seem to change regularly. Although we've certainly moved back the avocados and browns of previous decades, other colors seem to peg a kitchen's timeframe. Black was big for a while, but you don't see it much anymore. Some designers keep trying to kill stainless—but it seems to have more staying power.
Built-ins: For a while designers were building in all kinds of things into kitchens such as built-in desks (until designers realized that nobody ever sat at them). There were also built-in cubicles for phones and other appliances. Fewer homes even have landlines now. And homeowners don't want to take up counter space with cubbies.
There are other things that can date a kitchen, but you get the picture. Sometimes you don't feel comfortable in your own kitchen simply because it feels dated.
FUNCTION: Sometimes a kitchen doesn't feel right because the kitchen's design doesn't accommodate daily family activities. Even if your kitchen serves multiple purposes, its primary function is food preparation. And good kitchen design is built around what some call a work triangle. If you feel like you're running back and forth—or around things—when it's time to prepare meals, you're going to be frustrated. And if you have a hard time reaching appliances and utensils, that's not going to help you enjoy the time you spend there.
Our design experts can guide you through the kitchen remodeling process so that you end up with a kitchen that looks great and works the way your family needs it to. And if you'd like some advance help in thinking through just what you want from your new kitchen, you'll want to download our free Designing Your Idea Kitchen guide. It will help you create a kitchen that fits your personal style and identify what you really want from your kitchen.
If your kitchen doesn't look the way you want it to, or if it doesn't work the way you think it should—it's time to think about a "do-over!"