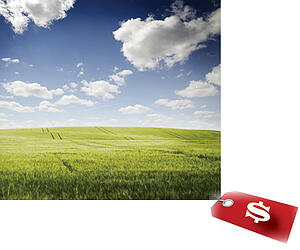 Over the years, we've built a lot of homes in the Rochester area. Invariably, the question of budget comes up. People want to know how much they should spend for their new home. They wonder "how much house" they can really afford, and which upgrades really make sense for them.
One element future homeowners sometimes overlook is how much they should spend on the land their house will sit on—particularly if they happen to be looking at a parcel of property that's not part of an existing development.
The answer to that question is like so many others associated with building a new home: It depends. There's a kind of rule of thumb in the building industry that suggests that it's generally a good idea not to spend more than 25 percent of your total budget on the property itself. That may be helpful in giving you a very general idea of what to spend, but here are a couple of things that may actually be more useful.
How much land do you really need? People have different reasons for wanting larger lots. Some simply want more space around the home to ensure privacy and quiet. But solitude sometimes comes with a price—and it's not just the cost of the lot. Remote parcels may cost extra in order to get services (electricity, water, sewage, etc.) connected. So you need to make sure you understand what your potential costs are before you make that purchase.
Some people want to use the space for other purposes (perhaps for animals). But before you pursue that plot for that purpose, you may want to make sure it's zoned for that use. Otherwise you can find yourself on a piece of property that you can't use the way you planned.
And no matter what your reason for wanting that piece of land, you need to keep resale in mind. Will the property you purchase now be desirable when it's time for you to sell? If you buy a large parcel, will you be able to divide it up if you need to? What about access to roads if you do?
How much you spend on your property depends on what you can afford—both now and in the future. The bigger issue, is whether that piece of property is the right fit for you and whether or not you've thought through all the issues surrounding that purchase.
Before you even purchase a home site, let Gerber Homes help you evaluate the land. There is no need to hire an outside consultant to help you find the right piece of land for your new home. Our NO FEE land consulting services include:
Locating the land
Site cost evaluation
Suitable floor plan recommendation
Septic or well requirements
And much more!
Contact us for more details on finding just the right piece of property for your new home!