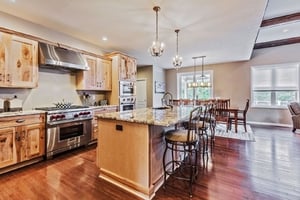 A significant remodeling project can breathe new life into your Canandaigua home. In fact, you can end up with what feels like a whole new home. But there are a few things you'll want to remember before you get started. Let's look at three of those things.
Clarify Your Goals: There's a big difference between simply giving your home a "face-lift" and undertaking an actual remodeling of your home. You can spruce things up with paint and perhaps a changing of fixtures. But if you truly want to change the way your home looks, feels, and functions, it's a different process. Make sure you're clear on what you want to accomplish. Here's a helpful post that can help you get a grip on the scope of your remodeling project so that you can plan accordingly.
Not All Remodeling Projects Pay the Same Dividends: It's a good idea to make sure that the projects you have in mind will make your family's life more comfortable and enjoyable. But you'll also want to keep in mind that some projects will give you a higher return on investment if and when you ever decide to sell. Here's how a number of different projects compare when it comes to long-term value.
You'll Want to Prepare Yourself: Even if you're dealing with a friendly, courteous, and skilled remodeler (such as Gerber!) the fact is that remodeling can be a bit of an invasive process. That's particularly true if you're re-doing an essential room such as your kitchen. It's extremely helpful to have a plan in mind for how you're going to manage your household while your kitchen is torn up. Here's a helpful post that can help you prepare yourself for remodeling ahead of time.
Remodeling your Canandaigua home can make a huge difference in your family's well being. It can allow you to comfortably stay in a home and a neighborhood that you love for many more years. It offers many of the benefits of building a new home for less money and without the hassle of having to move and adapt to a new area. But before you begin, make sure you have clear goals, an understanding of what your project will give you for the money you're spending, and that you're prepared for the experience.