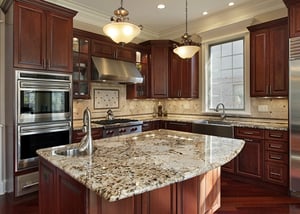 There's no question that homeowners, designers, and builders pay a lot of attention to kitchen design these days. Kitchen design has reflected the changing role of the kitchen from a meal preparation space to a multi-purpose working and entertaining space. But it's easy to overlook one of the key elements required to make this space work: Lighting.
One of the issues that you have to work around is that you'll want different lighting for different purposes. Because the kitchen is increasingly an area for social gatherings (and because open floor plans make the kitchen visible from other areas of the home) you'll want to pay attention to ambient lighting. You'll want your kitchen to be warm and inviting—a place where guests feel comfortable hanging out. And if you use fixtures over your kitchen island, you'll want to make sure they don't clash with fixtures in your eating areas—or fixtures that are visible from the family room or great room.
Your kitchen, however, isn't just about entertaining. If you're actually going to use it for meal preparation, you'll also want task lighting that makes your preparation easier. And there's a pretty good possibility that the soft, calming light that makes your kitchen a nice place to hang out won't give you the right kind of light for chopping, cutting, stirring, and reading recipes.
Houzz.com has a very helpful article about getting your kitchen island lighting right. There are some great ideas about lighting styles and different fixtures you can use so that your kitchen's island is well lit. (And by the way, if you look at the kitchens in our floor plans, you'll see that most of them include an island or a breakfast bar).
But you need to think beyond the kitchen island when planning your kitchen lighting. And the time to do that is before construction starts. There are a lot of ways to build in the lighting you want, if you sit down with your builder before things get too far along. It's so much more effective (and less expensive) to allow for special lighting needs (such as under-counter lighting, and even track lighting) ahead of time.
So as you plan your home, plan for lighting that works both for visual comfort and ambiance and also to make your workspace more usable.