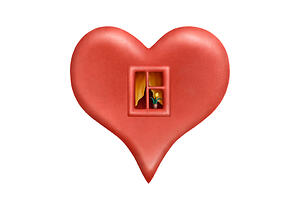 Builders, designers and remodelers often refer to the kitchen as the "heart of the home." That's a sentiment many homeowners in the Rochester area would echo. After all, so much happens in the kitchen. Sure, it's still the place where meals are prepared, but it's also the hub of family life. Meals are eaten there. Impromptu family meetings happen there. Homework gets done in the kitchen. Bills get paid. And when it's time to entertain, it seems like you just can't get guests out of the kitchen.
The role of the kitchen has certainly expanded. But sometimes, that most important "organ" of the home needs a little surgery—especially if you're living in an older home where the kitchen wasn't designed to be the center of activity. Heart surgery—even if what we're really talking about is kitchen remodeling—is serious business, and it needs to be done properly and with a good deal of forethought.
Before you jump into a major project such as remodeling your kitchen, you need to think through some pretty significant questions.
How do you create a kitchen that fits your personal lifestyle? There's no "one-size-fits-all" solution for kitchen design. What works for your friends or neighbors may not be exactly right for you. Your family's activities are unique to your family. You'll want to think through how your kitchen design can accommodate your specific needs.
What's your style? Some people like a more formal kitchen. Others are attracted by a more country or casual style. Others may be interested in a gourmet kitchen so they can pursue their passion for cooking. How do you go about marrying your kitchen's style (form) with the functions you need it to allow? Put another way, "What do you really want from your kitchen?"
Failing to plan can mean planning to fail. Great kitchens don't happen without good planning. But what are the specific steps you need to take to make sure you end up with the kitchen you want? What's the step-by-step process? What do you need to do–and when do you need to do it?
At Gerber Homes we've been building and remodeling homes in the Rochester area since 1950. When it comes to "heart surgery" (kitchen remodeling) for your home, we've been around the block a time or two. But we know that it's a big undertaking. That's why we encourage you to download our free Optimal Kitchen Designs and Layouts guide. This no-obligation guide will answer a lot of the questions you have about creating the kitchen you've always wanted. It will give you new ideas about what you can do with your kitchen. And it will probably raise some new questions that we'll be happy to answer.
If the heart of your home needs surgery, don't worry. Get some answers that will give you the confidence to make the right moves for creating the kitchen of your dreams.