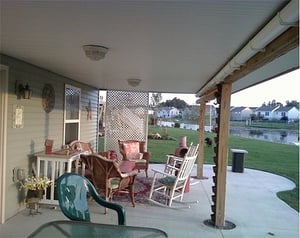 There is a homebuilding and remodeling trend that surfaced some years ago that continues to increase in popularity. A few years back it wasn't uncommon to hear designers talk about blurring the lines between indoor living and outdoor living. Some would say that the line is no longer blurry, but eradicated.
There are two ways this seems to be manifesting itself when it comes to homebuilding and remodeling. On the one hand, homeowners increasingly want to bring more of the outdoors into their homes. They're opting for larger windows and doors and other design elements that allow more natural light into the home. In a way, they are incorporating the beauty of the outdoors into the interior of their homes.
Another way this is playing out actually works in the other direction. Homeowners are looking for ways to take the comfort and convenience of indoor living outside. Trex, one of the manufacturers of high-quality engineered decking material recently posted an article about how outdoor living spaces have virtually eliminated the line between indoor and outdoor living. And they see the trend continuing to grow.
At the recent National Hardware Show it was pointed out that, "Homeowners are taking cues from the interior features and amenities of their homes and are creating comfortable and functional spaces outside" using features and amenities from inside their homes to create comfortable outdoor living areas.
Patios, decks, porticoes, and porches are no longer places where families have a couple of garden chairs and a picnic table. They are now sophisticated spaces that provide plenty of comfort—and extend a homes' "comfort zone" to the outdoors. And by the way, it's a great way to add space to your home. Porticoes, like the one we built that you see pictured above, are a great example of bringing inside living outside while adding 'room' to the house.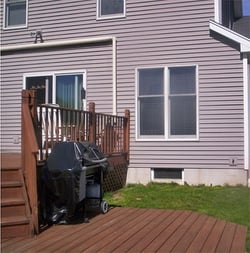 Decks have gone beyond simple narrow add-ons to the back of the home. In the Rochester area we've built decks that spill out from the house and lead down to a gorgeous patio area, like the one you see pictured here. And we've also built decks on homes that are accessible from multiple levels of the home. Click here for a closer look at some of the ways we've helped homeowners in the greater Rochester area expand their living space and bring indoor comfort outdoors.
Now is the perfect time to be thinking about expanding your living space outdoors. There may still be a bit of a nip in the March weather, but if you want to enjoy outdoor living all summer long, now is a great time to contact us and discuss ideas you have about adding outdoor space to your home.
Summer will be here before you know it. Make sure you're ready for outdoor living!