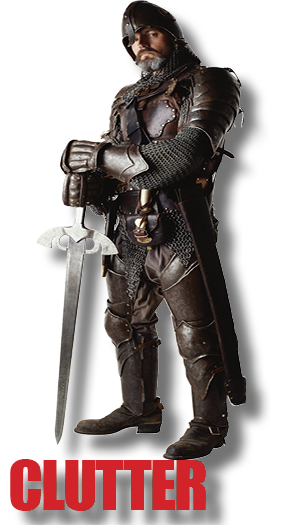 Sometimes clutter seems to sneak in and threaten to take over our homes. At least that's the way it feels. We all have junk drawers full of things that were too valuable to throw out. The problem is that now we can't remember why they were so valuable and all that clutter keeps us from finding the things we really need now. What's worse is when that clutter spreads out to other areas of the house.
There are some things you can do to conquer the clutter. Here are four simple ideas.
1. Banish Your Junk Drawer: One of the worst things about junk drawers is that there is often so much of everything imaginable in them. One was to conquer that problem is to restrict the contents of each drawer to one or two related things. Empty your drawers, and get rid of anything you haven't used in a year or more. If you haven't used it by now you probably won't. Then designate each drawer to one or two kinds of things. You could put candles and batteries in a drawer because both are things you'd use during a power outage. Separate the different things (and sizes of things) with interlocking drawer organizers. It will look better and you'll always know where things are.
2. Modify Your Linen Closet: Have you ever noticed that the sheets or towels you want always seem to be at the back of the closet? That means either emptying out all the contents onto the floor so you can reach what you want—or making a total mess of the shelves. Instead, look at installing slide-out shelves or drawers. Pull them out to easily access what's in back.
3. Mobilize Your Paperwork: We all have paperwork that accumulates, but not everyone has a dedicated home office. That means important papers can get spread all over the place: in the kitchen (where they get food and drink spilled on them), or on the family room floor (mixed in with newspapers and other reading material). Purchase a metal wire cart on wheels to keep all your current paperwork in one place—and move it to wherever you want to work on it.
4. Create More Storage Space: Of course another way to eliminate clutter is by building extra storage space into your home. Whether you're building a new custom home or remodeling your existing home, a good builder can help you find "hidden" or wasted space (in your kitchen, in hallways, or even under stairs) that will take care of your storage needs. That will enable you to keep things organized and out of sight.
We'd be happy to help you conquer the clutter in your existing home, or help you build a brand new home that's clutter free!