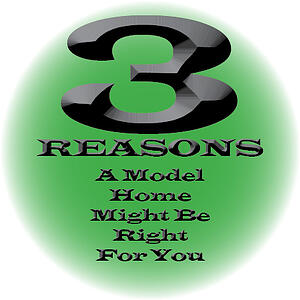 If you've been considering building a new home in Canadaigua, Ontario, Webster or Perinton, you may not have given much thought to purchasing a model home. But here are three compelling reasons you may want to think about before scratching that idea off of your list.
1. You hate to wait: Building a new home can be an exciting adventure, but it's not something that happens overnight. There is a lot of thought, research and planning that goes into building a new home. And that all happens before the hole for the foundation is excavated. If you're someone who doesn't like to wait, that might not sit well with you. And sometimes it's not even a matter of wanting to wait. Maybe your living situation changed suddenly and you no longer have the luxury of waiting to build your new home. What if you need to move now? Model homes are often ready immediately—or on very short notice. That takes some of the pressure of waiting away.
2. Upgrades are us: When builders create a model home they want to use it as a showcase for what they can do. The result is that many model homes have upgraded features in them that show off a builder's expertise. And usually the finish materials are upgraded as well because they show better. What that means is that you can get more "bang for your buck" with a model home because you'll pick up these upgrades at bargain prices.
3. What you see is what you get: Not everybody enjoys looking at floor plans and schematics to see what their future home is going to look like. As a matter of fact, some people really struggle to envision what the finished product is going to look like. If that describes you, a model home may be a big help. You don't have to imagine what it will look like when it's finished—you can walk through it right now. And for a lot of people that means peace of mind.
With those three things in mind, here are four more reasons you might want to consider a model home:
3 Bedroom/2 Bathroom, 1,600 square foot home in Canadaigua
3 Bedroom/2 Bathroom, 2,426 square foot home in Ontario
3 Bedroom/2 Bathroom, 1,707 square foot home in Webster
4 Bedroom/3 Bathroom, 2,395 square foot home in Perinton
Click here for more details, to download a brochure, or to take a virtual tour of any of these properties. Check out these great homes to see if a model home in the Rochester area might make sense for you!