Years ago, I found myself living in Canandaigua NY. After I moved, I promised myself, I would be back. I fell in love with the Finger Lakes Region. Let's face it, Canandaigua NY is the whole package. Tourism meets Norman Rockwell. I'd be hard pressed to say which I season I like most. Spring had an excitement of things to come. Summer was Finger Lakes water fun. Fall, incredible foliage, but Winter I think really was my favorite.
Every shop on Main Street decorates for Christmas. The street light display at night shouldn't be missed. The whole town gets involved with activities. One of my favorites is the community Messiah Sing-A-Long at the First Congregational Church. Imagine this 153 year old church filled with people who just want to be part of a big choir for the day. No experience needed.
The crowning jewels of Canandaigua NY are the century old mansions. I told myself someday I would own one of these million dollar beauties. Set up a B&B, spend my days vacationing in a town I loved, and going to every community event possible. OK, a few flaws in my thinking. Plus, I forgot these things need to be heated. Ugh.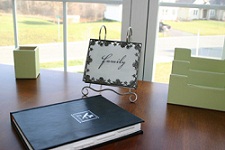 Still, my thinking was "The Finger Lakes Region has it all, and I want to live there."
I recently visited Sharon of Gerber Homes, in her Canandaigua NY model home. Suddenly it occurred to me. You don't have to work three jobs just to heat a beautiful Canandaigua NY home!
I visited The Sturbridge, Gerber Homes' Canandaigua NY model. I was amazed by the attention to detail. I loved the custom tile shower, the curved window in the Master Bedroom.
This new 2010 model home is Energy Star approved, a major plus for new home owners. It's open floor plan lends itself easily to relaxing after a day on the Lake or antique shopping in town.
The Finger Lakes Region, especially Canandaigua NY is an up-and-coming location for both young professionals and retirees. A short commute to Rochester or Buffalo, Canandaigua NY is the vacation spot where you live.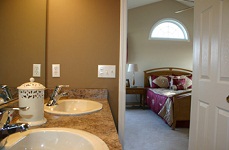 Stop by and visit Sharon at her Gerber Homes model, noon-5:00, Wednesday-Sunday. Call (585) 259-7172 to ask questions. Then, take a drive down Main Street, and enjoy the Christmas lights!