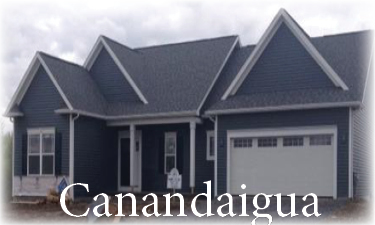 One of the best things about building a custom home is that you can expect quality construction that's at least a notch or two above what you might find in standard housing in your community. The design is better. The quality of the finish is better. And the quality of construction is almost always superior to mass-constructed homes. For a lot of people, that's something worth waiting for.
But what if you don't have time to wait? Life is funny. Sometimes you have to move at inopportune times. And that may mean that you simply don't have the time to go through the normal planning and construction involved in building a custom home. Does that mean you have to settle for less quality?
Not necessarily.
Right now you have the opportunity to move into a quality constructed Gerber home—without the wait normally associated with building your own home. As a matter of fact, we have two options available right now: A 1,571 square foot, 3 bedroom/2 Bath in Canandaigua, and a 1,707 square foot 3 bedroom/2 Bath home in Webster. You can check out both homes here and download a brochure or take a virtual tour. And if you like what you see, you can contact the local agent with just a click of your mouse!
They say that good things come to those who wait. But sometimes you just don't have the time to wait. That doesn't have to be a problem. And it doesn't mean you have to sacrifice quality.