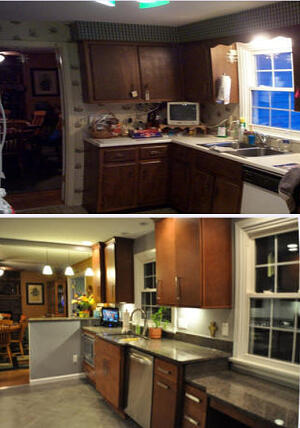 It's been pretty well established over the past few years that the kitchen has become the heart of the home. But if you live in an older home in the Rochester area, it may be hard to imagine your existing kitchen as the focal point of your home. Sure, all those glamorous photos of stunning kitchens on TV or online look great—but how can you achieve that when you're dealing with a cramped kitchen to begin with?
When it comes to making the most out of the space you have, there are times when it's not what you add to the picture that matters most—it's what you take away. That's where a seasoned remodeler can really help. Sometimes builders and remodelers see your home a little differently than you do. They not only see what's in front of their eyes, but what could be there. And sometimes that means taking something away in order to uncover something better.
The photo you see here is a perfect example. How in the world can a dark, cramped kitchen be turned into a bright and open space where people love to hang out? That was the challenge facing these homeowners.
Years ago, kitchens were separate rooms, devoted to meal preparation and closed off from guests. Nobody wanted to see pots and pans. Today, however, family and guests don't want to be cut off from what's going on in the kitchen. The "big take-away" in the kitchen pictured above was the wall that divided two rooms. By taking away that dividing wall and moving some of the kitchen components, we were able to create a warm, comfortable, welcoming space with lots of light.
I invite you to take a look at some additional before-and-after images of Rochester-area kitchens. In most of the examples you'll see, the transformation of the kitchen wasn't simply a matter of putting a new face on things. It involved re-thinking how best to use the existing space—and the space around it.
We've been building and remodeling homes in western New York since 1981. We know our way around the kitchen—and the other rooms in your home. We'd love to be able to help you see the possibilities in your home that perhaps you haven't yet discovered. And sometimes—if you want more, that means taking away something to get there!