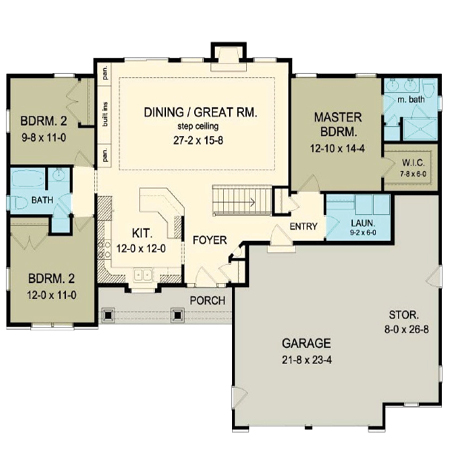 Dream homes don't just happen—you have to build them. And before you can build them, you need to plan them. So if you want the perfect Rochester-area home for your family, you'll need to find the perfect plan. Ah but how do you select the perfect plan for your home?
One way is to review floor plans to see if they match your lifestyle. For instance, the Chelsea in Briarwood Estates (pictured here) is one of our featured floor plans. It's a 1707 square foot 3 bedroom, 2-bathroom single-level home with an open floor plan.
The open plan means you can entertain guests in the dining room/great room without being hidden away in a closed-in kitchen. You've got two bedrooms for kids (or guests) and the master bedroom (with walk-in closet and master bath) is conveniently located on the same level. The attached garage (with extra storage) is ideal for those cold and snowy Rochester winters. It's a great plan for people who want single-level living (a real plus for folks who want to stay in their home longer).
But is this the perfect plan for you? That all depends on your wants and needs. Obviously, the "perfect" floor plan for one family isn't necessarily the right choice for everyone. That's why it's a good idea to think through your lifestyle before deciding on a floor plan.
Do you do formal entertaining, or are most of your events more casual? Do you need a lot of storage space? Is having a separate room for children to play in important? Will you be working from home? Is having a separate craft room a plus. What if you want more space? What if you'd prefer a larger kitchen? What if you need space for a home office? Or what if you want your children's rooms on a second level—away from noise and guests?
You get the idea. Figure out what things are important to you first. Make some notes. Then begin looking for a floor plan that matches the lifestyle described in your notes. Even then, you'll want to have a variety of options.
We have dozens of floor plans from which to choose. Take a look and find one that's perfect for your specific lifestyle. The perfect Rochester home begins with the perfect plan.