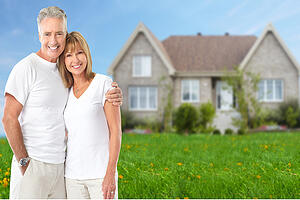 Most of us feel pretty comfortable at home. It's familiar, convenient, and secure. We feel, well, "at home" there! That's why it's not surprising that more and more of us are choosing to stay in our homes even as we get older. As a matter of fact, AARP research indicates that now nearly 90 percent of seniors say they prefer staying in their own homes. It's what the housing industry calls "Aging in Place."
But what if the home you're in doesn't feel as safe, secure, convenient, or comfortable as it once did? There's much more to creating a space where you can still feel at home as you get older than simply adding a few grab bars around the house.
What can you do to remain in the home you love and feel safe, secure, and comfortable doing so? Here's some good news. Not all home remodeling projects are about following the latest trends or giving your house a cosmetic "face-lift." If you live in the Rochester area and want to stay in your existing home, an aging-in-place remodeling project may be a great alternative to moving out.
If you decide you want to stay in your home for the long haul, you'll probably want to consider improvements and changes such as: Lowering electrical switches (so you don't have to reach over your head); installing raised electrical outlets (that don't require bending over to use); replacing doorknobs with lever-handled fixtures (that are easier to open); adding non-slip floor surfaces (to avoid falling); installing a personal alert system for emergencies; putting railings (that don't look like railings) in hallways; and maybe installing an entrance with a ramp instead of steps.
It's not always easy to anticipate what you're going to need. That's one reason it's good to sit down with a builder who has been down the "aging-in place" road a time or two. Your builder can help you think through features you will want—but didn't think of. And another benefit of talking things through with your builder and making a good plan up front is that you can get everything done at once instead of having things done piecemeal. It will look better, work better—and be less disruptive.
If you have a Rochester-area home that you love—one that you want to stay in for years to come—contact us and let's talk through your needs and desires. Together we'll come up with a plan that will let you stay in the home you love—comfortably, and safely—for as long as you want.