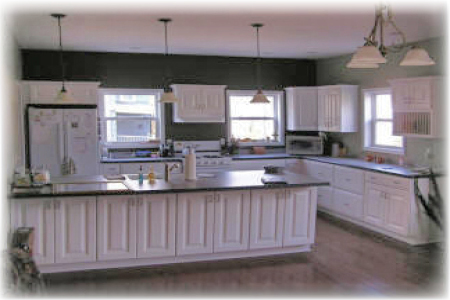 If you're considering remodeling the kitchen in your Rochester-area home, it's worthwhile to sneak a peek at some of the current kitchen trends. You don't have to be a slave to fashion, or do the same thing that "all the cool homeowners are doing." On the other hand, it's fun to see what some of the experts see as trends. And to be honest, sometimes they have really good ideas!
Here are some things that designer members of the National Kitchen and Bath Association noted about the materials, styles and products they've been including in their designs recently. You can take them with a grain of salt, reject them as not being right for you or embrace them. It's still interesting to see the direction kitchens seem to be headed.
Cabinet changes
There appears to be a shift in wood finishes. For homeowners who want natural wood finishes, designers are seeing a trend toward darker finishes. That doesn't mean lighter finishes are "out," but designers are only specifying them about 30 percent of the time while they're specifying darker finishes about 58 percent of the time.
When it comes to painted cabinets, however, white still reigns supreme with 59 percent of designers recommending that option. It's interesting to note that distressed finishes are increasing in popularity with 22 percent of designers including that option in their designs.
Shed a little light
There are some changes on the lighting front. Homeowners (and designers) are serious about energy efficiency in the kitchen. But when it comes to lighting, they are choosing LED (light-emitting diode) lighting over CFLs (compact fluorescent lights). Many homeowners and designers simply prefer the quality and look of the light LEDs offer. And many are not thrilled with the mercury content in CFLs.
Kitchen water works
Another interesting trend centers on the sink. "Pull-out" faucets (in which the sprayer unit is built into the center faucet instead of being a separate unit) are being specified more than 90 percent of the time. It's more convenient and gives the sink area a cleaner, less cluttered look.
Clean lines are part of what's behind an apparent move toward single basin sinks and away from double sinks. But these new single sinks tend to be deep and wide so that they can accommodate large pans and even baking trays.
Just because something is a trend doesn't mean you have to do it. After all, it's your kitchen and you should feel comfortable in it. But it's good to keep trends in mind—especially when considering resale down the road.
If you're looking for additional kitchen design ideas, download our free Optimal Kitchen Designs and Layouts eBook!